Travelogue, Day 16
We slept in a bit (at least for us) and didn't drag ourselves out of bed until nearly 8. Or, I should say, *I* didn't drag my but out of bed until nearly eight. Which means that I ended dup with the cold shower. Another one. Everyone else beat me to it, and this was one of the few places without one of those Mira instant hot water things. This is not the way I want to start the day, but give me a good plate of bacon and I'll survive. Bacon can cure anything, I think!
We don't have any huge plans for the day -- just a series of dots on the map of castles large and small. This is the sort of day that I LOVE!
Oranmore has a small tower house butted up against a modern building estate. It's in the middle of a field and we only stopped to take pictures from the road -- it's wet though that I don't want to end up with soggy shoes (again!). It doesn't look too terribly interesting, at any rate - a plain tower house with a corner stair and eensy little windows.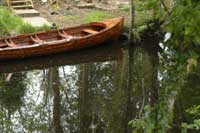 Aughnanure Castle was closest. It's nicely renovated and very interesting -- huge, too, with most of the outer bawn walls remaining, and the ruins of an ornate banqueting hall that spans the river -- and once had a trap door into which guests who displeased the laird were dropped (whether they were alive or dead at the time is a bit of a question). The castle lies on a small promontory, so it is surrounded by water on three sides. The walk up to the castle is very pretty, winding through the woods and by the riverside and offering little glimpses of the castle tower through the greenery. It's quite a romantic site, even if it rained just a bit this morning.
Soggy Shoes
And I say rain, but what I really mean is sort of a steady mist. It's wet enough, alright, but there aren't actual drops falling. So you walk for awhile and suddenly you're quite damp and your hair is dripping into your eyes. Oh, it definitely does rain here, too -- how else would the island stay as green as it does? Pelting rain, pouring rain, torrents of rain, sprinkles, drizzle, showers. Find a synonym for "rain" and it occurs here in Ireland. It's ubiquitous, but never really seems to be that oppressive. It will rain for a while, then the sun comes out. Duck into a nearby pub or café for a snack and by the time you're ready to head out again, the weather has changed. I'd be perfectly happy to walk around in the rain (a good raincoat and waterproof shoes are a must, though), but I wear glasses, which makes it a bit harder. I'm constantly trying to wipe condensing mist off my glasses, which is a losing battle. It's one of the few times I really wish I could wear contacts.
On to Dunguaire Castle -- also renovated, but by a private group (not Historic Scotland/NTS) and really much less interesting. Well, to me, anyway. I like the crumbling ones better. The castle sits on a little hillock jutting out into he lock and is remarkably complete. They have "medieval banquets" here, so it's quite commercial, but when the money can be used to save these old hulks, I guess I'm for it! It's definitely worth the entrance fee, I think, but only because it's in quite "original" shape. The interior is decorated and filled with antiques, but they didn't plaster or harl the walls.
Harling, or pebble-dashing, was the most common exterior wall treatment for these stone castles (and for wooden castles, too, to make them look like they were made of stone). This primitive form of stucco protected and waterproofed the stone (as well as being decorative). I'm always a bit shocked to see a building that's fully plastered inside and harled outside (like Craigevar), they tend to look sort of overly-fantastic. I know it's actually more authentic, but those old movies really cement the idea of castle = gray stone.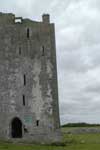 Mark wanted to walk around the outside of the wall here, but it's a pretty steep and rain-wet slope. I'd have ended up in the loch for sure. Not that it would be the first time. I always carry an extra pair of socks.
We zipped by a few small tower houses (Drumharsna and Ballymaquiff) on the way to Athenry. Drumharsna is a stark, flat, smooth tower right by the side of the road. Ballymaquiff looks as if it is being eaten by the greenery.
Original City Walls
Athenry is one of the original walled cities in Ireland, and one of the few that still has original sections of walls around the city. They circle about 2/3 of the town, in various states of repair, with round and square watchtowers every few hundred yards. The north gate of the original burgh of Athenry is right in the middle of the town market -- the main road in the town goes straight through it. Very carefully, of course. It's very, very narrow.
The castle is right along one of the main roads nowadays, only a few blocks from a ruined church (which we tried desperately to get into, since the interior decorations looked very cool. Everything was locked and barred and neither of us could shimmy up high enough to climb in. At least Mark was tall enough to hold the camera up and snap a few pictures.) The castle is well-restored -- glass in the windows, plastered cellar and main hall, fully roofed tower house. The bawn is in ruins, of course, with the stubs of corner round towers against the water.
We circled around town a few times to get pictures of the town walls and the main gate in town. Athenry is a very picturesque place, although the roads immediately outside the old city walls are lined with concrete plants and warehouses and other manufacturing. The tangle of streets is hard to navigate with all the trucks lumbering around. We drove through the main city gate twice, just for fun.
We stopped and made reservations for tonight (it's really much more polite to call at noon or one than at five, although we've done both), we grabbed lunch in one of the little delis in town and I convinced Mark to drive off in search of a cluster of Dots just south of Athenry. We drove on every single road in the little triangle of space, looking for towers and rubble. We found seven in a space about 2 miles per side. If the Dots are to be believed, we missed at least four more. Interesting!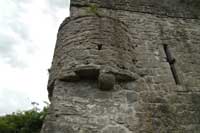 Most were just little square tower houses (called peles or bastles, according to my architecture book), nothing too terribly unique about them except their density. Caherdangen, though, is interestingly machicolated and has little round corner towers. Ballymahivna and Cloghballymore are simple towers with thick walls that are crumbling at the corners. Some are even less complete: Clogherevaun has only one corner still standing, while Roo and Seefin have almost disappeared beneath ivy and trees.
I caught sight of a thick wall behind a modern barn and we skidded to a stop so I could take a picture of a castle near St. Clerans. A lot of our trip involved me twisting around in the seat to see if the glimpse of stone I saw is really a castle and demanding that Mark stop so I can get out and check. He's getting very good at the pull over NOW maneuver. We did, of course, nearly get killed by a full-sized SUV on the road. They were making a left hand turn and we were coming round the bend. Half a second off and one of us would have been toast! I'm sure I screamed, and Mark returned to the ten-and-two hand position suggested by driver's education classes. He'd been getting a little cocky, driving with one hand on the wheel, careening around the narrow country roads quite like a native driver. Hah!
Lunch? Dinner? It's all timing
Our B&B is in Athenry today, it just seemed like a good idea to loop around. Our hostess is from the East Coast of the US (probably Jersey, but I'm not that good with the accent). Our room is upstairs along a very narrow set of stairs, and we dropped off our things and walked back into town for dinner. We had a very nice dinner at Keane's, a local pub. We were freakishly early. We actually arrived just as someone else was finishing LUNCH (just before 6pm, mind you) and as we left the first of the "early bird' diners were arriving for dinner. Dinner was very good (spicy chicken and a steak sandwich, washed down with the obligatory pint) and we were able to crawl into bed at the B&B before eight o-clock.
The one other guest of the B&B insisted on staying up until the wee hours watching television at high volume. I wanted to bash down his down and throttle him. I was talked out of it by my much calmer husband. Who can sleep through anything, even artillery.