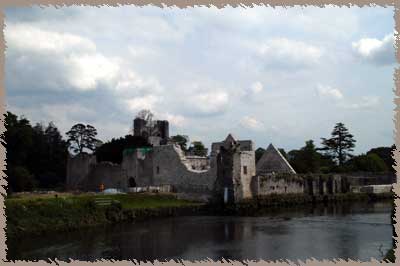 the remains of the older hall and river wall
Great Halls were usually incorporated into the main tower of the castle, although stronger walls meant that the hall could be a separate building better served by kitchens and servants.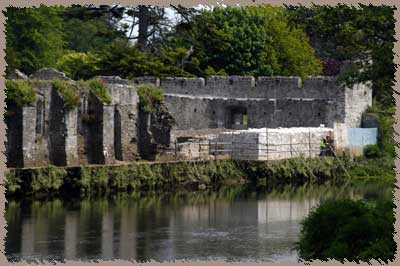 remains of the later Great Hall and kitchens
The river-side wall of the castle actually contains the remains of two halls. The older hall is smaler and located on the southwest corner of the castle ground. This hall has a basement and some additiona outbuildings. THe later hall, also build into the south wall of the castle. It has footings for a kitchen and is currently being restored, as you can see above.
There is a Franciscan Friary on the grounds, as well. Nearby in Adare is an Augustinian Friary, and White Abbey, the only Trinitarian friary in Ireland (it is now the Catholic Church)
page
[ 1 ] [ 2 ]