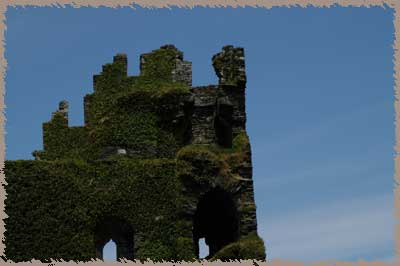 passageways and mural staircases inside the walls of the tower
Large windows light the second story, and the decorations on the frames appear to match ecclesiatic decorations (like Athenry), which leads some to believe that there may have been a chapel in the castle. Thre are also traces of crenelations on the wall and a few doorways. Private rooms int he castle probably had larger windows.

Ballycarbery dates from the 14th or 15th century. The remains measure 22.7m x 13m and were surrounded by a large bawn wall. The castle was a seat of the imporant MacCarthy clan, and was occupied by the O Connell's as wardens. The MacCarthy's got the castle atain the 17th century, but it was damaged and left in ruin by Cromwell in 1651.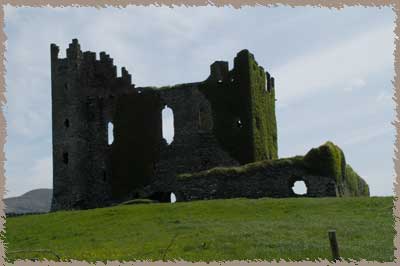 the caste from the north, with the remains of the bawn wall
The nearby town of Cahersiveen has something like 50 pubs, and while it has only main street, it is a popular shopping center for the other small towns nearby.
page
[ 1 ] [ 2 ]