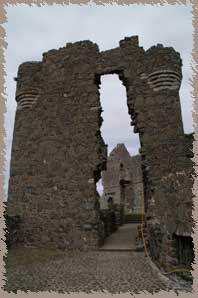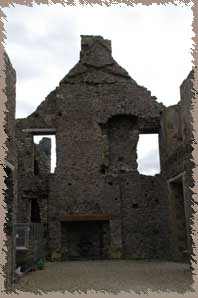 the remains of the gatehouse / gable end of the great hall and kitchens

The castle was besieged in 1641 during the rebellion, and the surrounding town was torched. It wasn't reoccupied by the Earl until 1666 and he lived there until his death. The castle was abandoned in 1690, though, as the McDonnel's moved their family to nearby Ballymagarry house. The house was build using materials from the old castle. The house was destroyed in 1745 and the Earls of Antrim moved to Glenarm Castle - the location of our Barbican Gatehouse stay.
The castle was ceded to the government of Northern Ireland in 1928, to be preserved as a national monument. SInce then, restoration work to stabilize and repair the castle and its various outbuildings has been continuous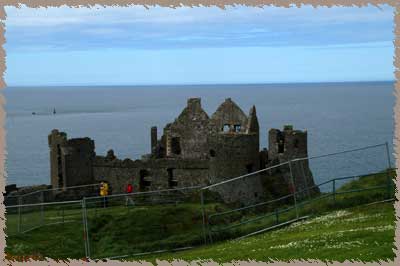 another view from the road, with fences to keep us from falling in
Physically, this still looks very much like a norman castle - two round towers on the landward side flank the gatehouse. There are cannon emplacements as well, added in the 16th century (the cannons came from a galleon that sank just offshore).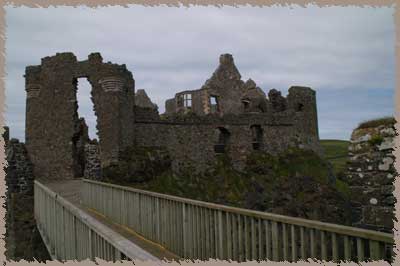 the narrow bridge to the castle
A coupld of interesting notes from Wikipedia - the castle was pictured on the inner cover of Led Zeppelin's album Houses of the Holy, it was also in the movie The Medallion in 2001..