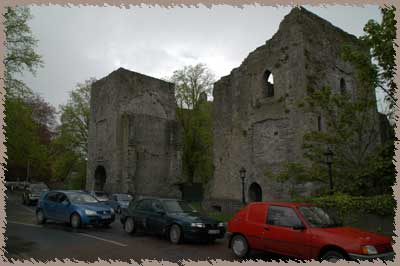 the ruined tower and gatehouse of maynooth
The original tower here was built by Gerald Fitz-Maurize (Baron of Offaly) in the very early 13th century. The stout tower house became the primary residence of the Kildare branch of the Geraldine family. The FitzGeralds eventually extended their lands and holdings and became one of the most powerful families in Ireland.

The tower, though much shortened, is one of the largest still standing. The basement shows signs of later work, including vaulting from the 15th century. An additional story was added in the attic space later, as well. In the 17th century, the castle was remodeled and additional buildings were added in the eastern range, leaving the tower uninhabited.
A courtyard would have surrounded the towers, all gone except for the gatehouse (which looks almost as large as the tower itself!) that was added in the 15th century. It was dismantled in 1647. The castle came into the holdings of the state in 1991 and restoration began in 2000.
The castle is at the main entrance to the south campus of the university in Maynooth. It is open for tours starting in June, so we could only see the outside of the tower. A key can be had from the Parson's house when posted.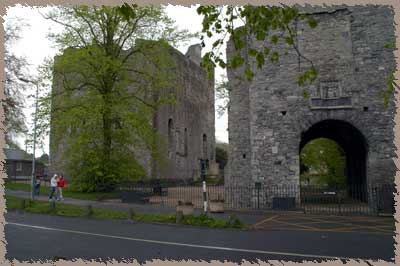 looking through he main gate