May 16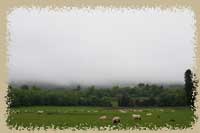 While it stopped raining overnight, this morning dawned shrouded in mist. In our experience, though, it will burn off by midday and we'll be back in sun again. Fortified with a couple of cups of strong coffee and lots of bacon, we walked through town to see Dunkeld Cathedral. We got a bit of a late start today, so some shops are actually open already, which is a surprise. The bakery on the main street was just putting out their sign, we decided to stop on our way back to the car and have warm tasty things later. Yum!
Dunkeld Cathedral, despite the big name, is a rather small church ("cathedral" denotes status, not necessarily size, some are enormous and others are quite modest), with about half of the building in ruins and the other half used as the parish church. It wasn't as interesting as I thought it would be, but walking along the riverbank in the cool misty morning was very nice. The views down to the bridge are lovely and the grounds of the cathedral of almost luminous green. With the fog still rolling in, the smooth, velvety green lawns don't look quite real.
We followed a young mom and her little girl (wearing a red coat) to the church. The little girl was very funny, and kept comparing her coat to my coat, before running off laughing. The whole churchyard is sopping wet after the rain from last night, and stepping off the gravel into the grass is a touchy proposition. You might be on solid ground, or you might squelch into a puddle up over your ankle that just LOOKS like it is grassy. The interior of the ruin is really muddy, too. This definitely a day when you want an extra pair of socks and shoes, if you mean to be walking anywhere.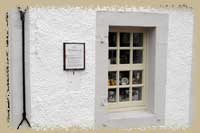 Walking back through town, we came across a small whitewashed shop with a metal bar attached to the front, and, curious, stopped to read the sign about the Dunkeld Ell. The Ell is a measure of cloth (roughly a yard - but the length varied from one place to another. Scotland was 37", England 45"). An ell-wand or ellwand was a rod of length one ell used for official measurement. Edward I of England required that every town have one. It's on the outside of little coffee house now, but it was enough to snag our attention (and make us look it up on Wikipedia).
Round towers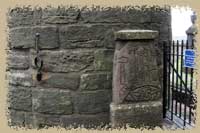 In the spirit of being thorough, we drove to Abernathy to see the round tower there -- the second of two in Scotland). This tower is truncated a bit, and sits alone in the churchyard, instead of being incorporated into the church itself. There's a weird iron collar and chain on the wall - we're not sure what it's for, although we imagine it served the same purpose as a public stocks - punishment and shame of offenders of some sort. The collar is set into the tower, and next to it is a carved stone. There is no one around to ask (and the little café which is supposed to have the key to the tower (which has a spiral staircase inside so you can climb all the way to the top) was not open, either. So I'll have to look things up later.
Based on an interesting description in Salter's castle book, we drove out on a farm road to see Ballinbreach Castle. We could see the castle, sitting out in the middle of a plowed field, but there did not appear to be any way to get to it, short of hiking through the field itself. We didn't want to be up to our knees in mud (next trip, I bring Wellies!), so I just took some picks from the road. There was a ton of activity at the farm, but Mark talked me out of going down and asking if we could walk out to the castle, or slog, as the case may be. The longer we're here, the less freaked I am by the idea of knocking on doors and risking being laughed at for wanting to see a ruin in someone's yard. Not that I worry too much about being laughed at, see: Chicken in Pants. Mostly it's that I don't want to interrupt people doing their daily chores, who are obviously busy, and then would have to worry about a couple of weird American tourists wandering in a possibly dangerous ruin., Still, I got some grand photos from the road. Gotta love zoom lenses and hi-resolution digital cameras!
Well, they just LOOKED like derelict buildings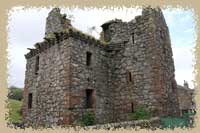 We tripped across the next two castles we found -- on the way back through town, there is a walled off section of a building foundation that look as if they might have been a tower of some sort. It's all inside a wall with gates (and tons of garbage, obviously just blocked off for safety). It possible that it is a much later building, I guess, but the foundations look quite large. I couldn't see any way to get in (and I'm not adept at lock picking), so I just snapped a few pictures through the grate and over the wall. I think it's Newburgh Castle, but I can't find any corroborating pictures. The coordinates match, though.
As we drove out of town, I spotted "a crumbly one!" and made Mark pull over. He argued with me a bit, as he'd only seen the building that looked like a modern derelict house and not anything remotely like a tower house, but I persevered. This small tower is in the middle of someone's yard, with electrical lines running in and out of the windows. The tower is Demnyline, I think. I can't tell if the piles of stones by the tower are there because the owners are rebuilding it, or if they are dismantling it and using the stone elsewhere. I know what I'd be doing, but these things are so common that they are often seen a nuisances and problematic (or dangerous) buildings. Given the choice, I'm sure quite a few people would dismantle or destroy them to avoid the risk of them falling in on their house, or having stray stones tumble off of them at random intervals. Maybe Scotland isn't as litigious as we are here. I can hope so.
Oh, and that "derelict house" that Mark saw and poo-poohed? A dated stone over one of the doorways was from the 1700s. Not so recent, and in context, a lot less derelict that I would expect!
I'm a myna bird
After a couple of weeks of hearing the full gamut of Scots and English accents, we picked out a typical southern drawl immediately when we arrived at Falkland Palace. A young couple from Georgia were touring Scotland and England and (since we lived in Georgia for a while) we placed them as soon as they said anything. They said they thought that we were Scots, based on my cheery "Hello!" I'm a completely myna bird, I'm sure I picked up the intonation of the lovely Scots I've been hearing for two weeks. I often worry that it will be taken as mocking or sarcastic, that I suddenly start to mimic whoever I'm talking to. Believe me, it's entirely unconscious and I really don't notice I'm doing it and I really don't' mean to be annoying. You should hear me when I've been back in Minnesota for awhile, you betcha!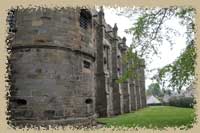 Falkland Palace is memorable to us because of the over-the-top docents -- costumed, appropriate dialect, one guy is even wearing a fake beard. That's taking your job a wee bit too seriously, I think, but it definitely gets you into the mood. (I should note that the costumes are very, very nice and that, as far as I can tell, historically correct). The primary open rooms are of the gatehouse, where the warder for the castle lived - they are meticulously decorated with appropriate antiques and art. The connected gardens are lovely, too. I expected things to be larger, though. "Palace' implies something a bit grander--well, not really, it usually means that the building was a home for a bishop or local aristocracy.
We picked up a couple of baked pies in the local bakery for lunch. It's always fun to go into shops - half the time we have no idea what some of the things are, it's always an adventure trying to figure out what all the offerings in a little deli are. Everyone is always happy to explain, but we often get the "how can you not know what bubble-and-squeak is?" look.
Perhaps we should have crashed the wedding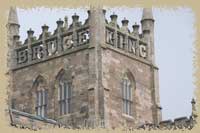 Dunfermline Cathedral is next on the list, although if we had known how difficult it would be navigating in Dunfermline, with all the one-way roads and linked roundabouts and huge amount of traffic, we might have passed. As it was, we felt committed to it after a half an hour or so and were determined to at least SEE the bloody place before we gave up. We did finally find the church, and squeezed into a parking space on the way -- right in the middle of an enormous procession for a wedding in the cathedral. Hundreds of people had clustered on the narrow cobblestone road to the church to see the bride being chauffeured in a Rolls Royce and to hear the piper on the steps as everyone arrived. We had to wonder who it was, some star getting married, to warrant all the pomp and circumstance? A Rolls Royce? And everyone in dress kilts or dressed to the nines? It wasn't anyone we recognized, but in reality, it was probably a strictly middle-class wedding -- everything that I've read said that it was de rigueur for a middle-class wedding to be an enormous expense, with a dozen attendants, full dress, the works. The enormous cathedral was packed with people and it had pretty much stopped up traffic in the town.
We shouldered our way through the crowd and to the abbey ruin and walked through them a bit, but it as raining heavily, so we huddled inside most of the time, enjoying the quiet. There is something quite peaceful about sitting inside the dark stone-arched cellars and listening to the rain come down outside . We were the only people there. The abbey is interesting, but very fragmented. The church tower has "Robert Bruce' carved around it in he letters (a Victorian addition). We didn't go to the church because of the wedding, and we made it back to the car just as the piper started the recessional for the wedding. We escaped just in time.
It took us several tried to find Culross Abbey - the parish church is part of the ruin, and the entrance is not immediately apparent. So we have a few turns around the small town (A Heritage Town, no less) before we figured it out. Culross (pronounced coo-russ)is a fascinating town - all curved cobble-and-brick roads and dozens of substantial buildings. The Town House (courthouse and prison), Culross Palace, and the abbey are among the many buildings here that are being cared for by Historic Scotland. We ended up at the beach, looking for a public toilet (seriously, I had to pee so badly I was just going to go somewhere in the abbey grounds, but people kept showing up and I was thwarted. I got a bit crabby about it, too! Damn walnut-sized bladder!). We walked a bit in the sunshine, then sat in the car to find a place to stay in Stirling for the night. We'd been to Sitlring before, of course, but I was very excited to see the finished Great Hall at the castle.
Move-in ready, we'll take it.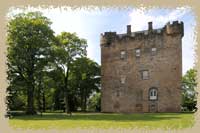 But, we still had an hour or so before things closed! We found Alloa Tower easily enough, and parked a few blocks away. The tower looks like a modern house, almost. Fully-finished plastered interior, huge oval staircase, like a House Beautiful Advert, circa 1500. It's very comfortable inside, and well furnished. The huge single room on each floor is meticulously restored. A bit cold, of course, but the effect is surprisingly modern, if you can get past the narrow spiral staircases and twenty-foot arched ceilings. I could live here. Well, I didn't see any evidence of indoor plumbing, so that might put a crimp in anyone's house-hunting, but it definitely showed how comfortable and homey these palaces could be. They are not bare stone walls and dripping dark rooms, not at all.
Quite a few of the towers and castles we've seen are rough, but it's easy to imagine them with glass in the windows and working fireplaces. Walking through Alloa, it's immediately obvious that these piles can be comfortable, warm, and surprisingly roomy. Damp is the most obvious problem in most of the stone buildings we've been in (although it's often a problem in the later houses we've seen, too) . They are not dark, either. Despite the small windows, most have wide window seats and the rooms are surprisingly bright. I'm not quite willing to move into a place with moss growing on the walls and no running water, but I can easily imagine renovating one of these places as a home. It's not uncommon, either -- we've seen dozens of tower houses that have either been incorporated into existing, newer houses, or renovated as cozy houses in their own right. It's hard to add central heating to stone buildings, though. And it's not just the logistics - -they were never intended to be 'sealed', and certainly not intended to have the extra amount of humidity that is introduced when you add an enclosed heating system to them. I can only imagine that they were originally pretty drafty places (despite the small windows and doors), and that flow of air kept the stone building from being saturated. Even today, water (in a climate that gets 40" of rain a year) is the problem.
We walked over to Tesco's (we could see the super center from the roof of the tower) to pick up supplies. Diet Coke, mixed nuts, more cookies (hey, we have to have priorities). We made it back to the car just in time to avoid the torrential downpour. The shower lasted just long enough to make everything moist and humid and cool, but it was heavy enough that we'd have been soaked through and quite miserable. Timing is everything.
Our B&B is a gorgeous Georgian House in the new part of Sitlring, on Victoria Square. We had a huge first-floor room with fifteen foot ceilings and a big, comfortable bed. Our hostess provided us with a good walking map of town, suggested several restaurants. We walked into town along the base of the huge volcanic stump that is castle hill, up along the old city walls and into the main shopping district. We ended up in a chain restaurant called The Filling Station, which is a sort of American-Style burger bar. Food was good, and we had a perfectly lovely walk back through town and to the B&B. Stirling is a very pretty town, and the cool evening let us meander lazily back to admire the castle in the twilight.
It was dark by the time we got back to Victoria Square. We were asleep almost immediately.