Ardclach Bell Tower
While this wasn't on our agenda for the day, we were once again lured by the blue Historic Scotland and off we went. This is a tiny, undistinguished stub of a tower house, built as a bell tower for the parish church. It stands on the hill over the church.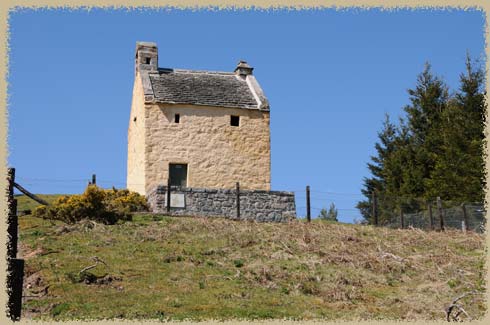 the tower has been truncated and re-roofed for use as a belltower
Everyting is UP!
One of the things I often moan comically about whenever we travel is that everything worth seeing is uphill. Both ways.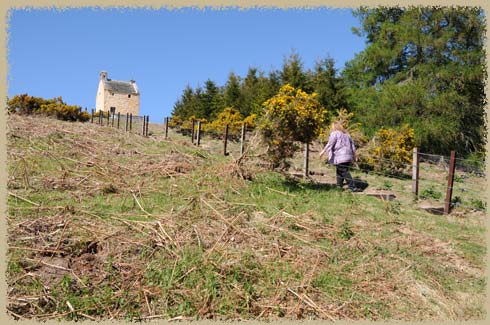 me, climbing up the hill to the tower
This odd little tower is on a steep hill overlooking the parish church. It is labelled a "fortified bell tower", which I think they simply made up --while it is indeed a bell tower, and it is definitely a little fortified tower, but it's doubtful that it was the original use -- it would be odd to have a fortified tower here for just a single bell.
The tower is lovely. It has been recently restored and re-harled (it's a rather peculisr pale salmon color that seems to be very common. Inside, there are two small room - the ground floor room has no windows and a vaulted cailing, and the second floor above leads to the belfry. There are only two stories and no cellar (at least as far as we could see). The base of the tower sits on terraced ground, but that appears to be because the hilltop is small and steep.
The datestone on the tower notes that iw as built in 1655 (or restored or rebulit in 1655, no one knows). It was probably built by a local laird, Alexander Brodie, possibly as a retreat from attackers who targeted the family becuase of their Covenanter beliefs. It was never used, of course, and was probably repurposed as the bell tower when the parish church was built in 1765. . The idea was that a bell run from the hilltop would be easier to hear. The original church is now abandoned.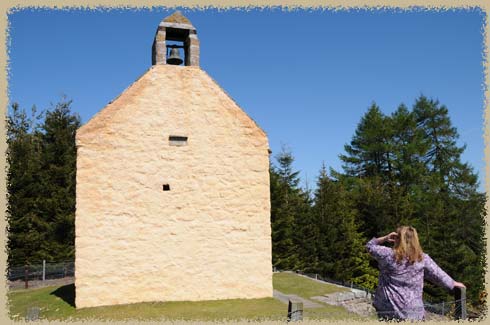 the very plain tower with and belfry