Asloun Castle
We skidded to a stop in the road to back up and see this quirky castle ruin - I caught sight of it as we whizzed past and made Mark go back so I could snap a few pictures form the road. It's a private house - I didn't venture too close.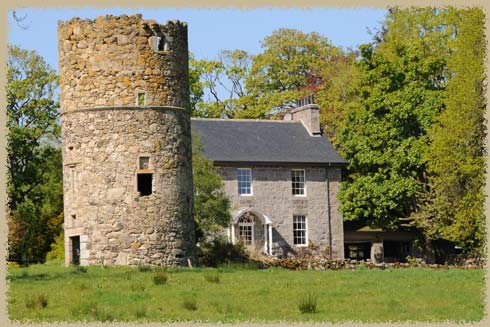 the remaining tower of the castle: gian lawn ornament!
Impressive garden decoration
The remails of Asloun Castle are reduced to a single round tower which sits in the garden of a modern house like a giant lawn ornament. This would have been one of two large corner towers on the z-plan castle (the north easterly one). . A bit of wall remains as well, but that's it.
The basement of the tower is vaulted, and it rises to three stories, but appears to be truncated. Most of the castle was dismantled and used as a quarry for the current, modern house. Based on the foundations, it was a main block 12m x 7.5m, with 1m thick walls, with towers on opposite corners. The entranceway (which is missing the common name-stone over the doorway) is facing east, which would have been to the exterior of the castle,which is quite odd. Perhaps it was added later? The stairway inside the tower led to the main hall; from there, a turret staircase tucked into the angle of the tower would have granted acess to the upper stories.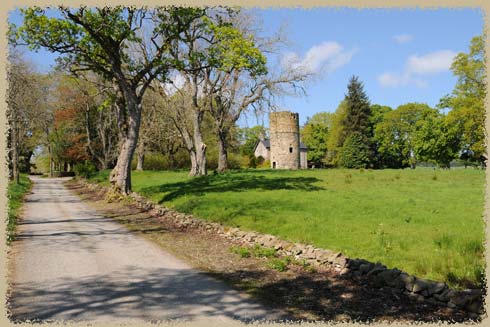 the tower caught my attention - but it's all that's there
The upper stories of the tower (which are nicely marked off by a line of rolled molding on the outside, were accessible only from inside the main hall and were probably private rooms, with larger windows.
The castle was built by the Calder family and has also been associated with the Forbes family. It is likely that hte castle was built aroiund 1563, when land was changing hands between the two families. The dating is supported by the quirked roll-moldings around the opeinings in the tower (mid 16th-early 17th century).
There are notes that the castle was standing in 1638, and in 1645 the Marquis of Montrose camped here on the way to the Battle of Alford.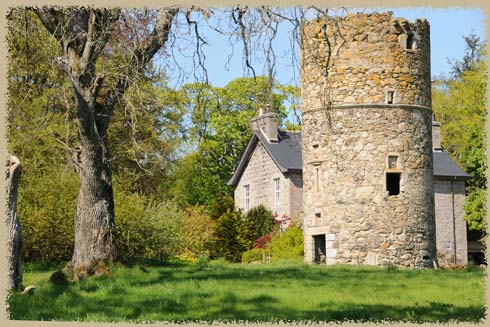 the modern house is built from stone from the original castle