Barra Castle
Private grounds and a narrow gate kept me out at the road, taking pictures.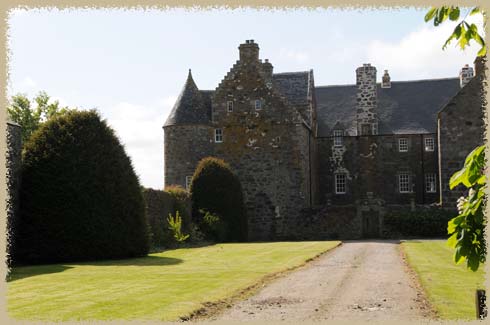 barra castle, incorporated into a lovely namor house
14th century "lesser Castle"
Barra Castle has the rare distinction of being a family home for most of its long life. The original tower house has been incorporated into a luxurious manor house throughout the years, and it has gained much favor for its simplicity and elegance of architecture.
The castle and its buildings surround a courtyard on three sides, with a short wall and entranceway on the fourth side. The main part of the house dates to the 17th century (1614 and 1618), although it clearly incorporates an older tower. In the 18th century, it ws extended with a large wing and stair tower.
There are two round towers at the corners of the main house, with conical roofs, which give the house a vey symmetrical facade. The main entrance, though, is in the small courtyard between the two projecting wings of the house.
There is a hall on the first floor, but it has been broken into two rooms and the private rooms are above it.
Ownership
The earliest mention of the castle dates from 1615, and at that tiem the lands were held by the Blackhalls and the Kings. However, the estate belonged to the families in the 16th cnetury and a tower house here may date from the late 14th century.
The Blackhalls forefeited to the king in 1592, and by 1599 the estate was granted to George Seton - a family whith whom the Blackhalls had a longstanding feud. George was a cleric (Vicaor of Meldrum and CHancellor of Aberdeen). Hi was responsible for adding the corner towers to the castle and the central stair tower to the now-L-plan tower house
The castle passed to the Setons of Pitmedden, but financial debts forced him to sell the lands to James Reid. The Reids (made baronets in 1705) added the gardens to the castle grounds. The castle remained in the hands of the Reids until 1882, when it passed to the Irvines by marriage.
The house was a common farmhouse from about 1766-1901, when Mary Irvine began the restoration of the older parts of the castle.