Brodie Castle
Just outside pictures, but another lovely example of a tower house. We arrived after hours (pretty normal for us, actually) and just walked around the grounds for a bit.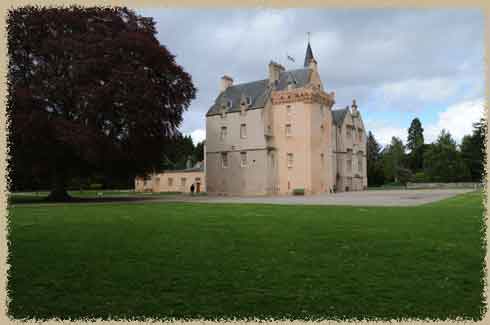 the castle from the gardens
16th century tower
Brodie castle is a large, well-preserved (or, well, well-restored) tower house, sporting the common peach-salmon harling that so many of the other tower houses share (see Crathes, Craigievar, etc). The current building dates mostly from the 16th and 17th centuries, although a much older tower lurks in there somwhere, dating from the 12th century or so.
The main tower is z-plan with towers on the opposite corners, built in the 16th century. Usually z-plan castles have more symmetrical tower, but Brodie looks more like a standard l-plan casle with an additional stair tower tacked on the other end. It is likely that the stair tower was a later addition, with four storeys and an attic. Each of the exposed corners has a bartizan - one of them square.
In the 17th century, a long, rectangular block was added on the northwestern side, which added more comfortable living space and a large vaulted kitchen. The upper stories have modern-looking dormer windows. A new staircase was added into the re-entrant angle as well, making the curent castle a tightly-knit square. There is no outer castle wall.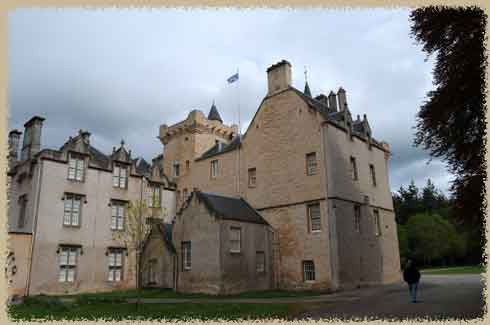 nearly every corner has been "filled in" with another block of buildings
It was added to in the 19th century by William Burn, architect. He removed the vaulted rooms in the callrs and made a large Romanesque entrance hall and arcade.
The cellars are vaulted, with five chambers making up a large kitchen and storage. On the first floor, the hall is vaulted as well. The gardens were laid out in the early 18th century, but for hte most part, they seem to have been razed and the current castle is surroudned by a lush green lawn and a collection of attractions for children. A wildlike spotting guide is available, and there are viewing hides around the grounds.
The public rooms are open to visitors, and contain extensive collections of antique furniture and artwork. No photos are allowed inside, unfortunately.
Ownership
The Brodies have owned the property since 1160, when king Malcolm IV granted the lands to the family. The claim was further supported by a charter from Robert I in 1311, and the family has held the estate since. .
Most of the existing castle dates from 1567 (from a date on the gable end) and was built by the 12th laird, Alexander. The castle was burned in 1645 (the family were Covenanters), and again accidentally in 1786. Both times, it was repaired.
The current building was renovated in 1980 by the National Trust..The Brodie family is still around, too -- some 35 generations later. They lived in part of the castle even after NTS took over the public rooms, until about 2003.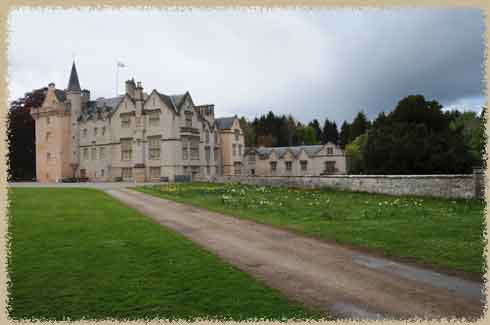 the new additions are far more ornate than the original tower