Cadboll Castle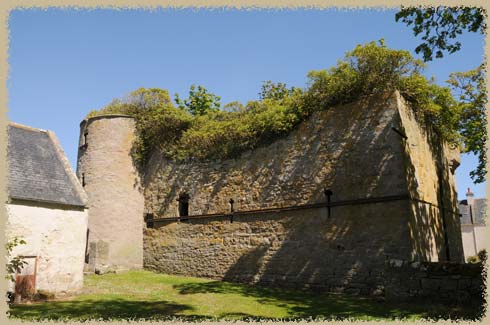 the first two storeys of the ruined castle
16th century tower house
We stumbled upon this ruined castle driving through farmland on our way to find Fearn Abbey. Part of the main wing and tower are still standing, but most of the castle has been demolished. It is being used as a farm building now, it seems.
The main part of the castle was built in the 14th century, but the current ruins date from the 16th and 17th century. It has a vaulted basement and first floor. The entrance is reached by a stone staircase. The main block measures 15.5m x 7.9m, with 1.3m thick walls, and the tower is nearly 5m in diameter.
Surprisingly, the main block shows no sigsn of a hall or private rooms - the rooms on the upper floors are small, have no fireplaces or latrine chutes, and have only tiny arrow-slit windows. They look like storage cellars. Because of this, it is likely that there was another storey planned, to house the family and state rooms required.
The castle was abandoned in the early 18th century.
Ownership
Originally, the lands belonged to the Clyne family (in 1375) . In the mid-16th century, the lands belonged to Fearn Abbey, and it was passed to the illegitimate son of the abbot there.
William Sinclair bought the house in 1592, and added the larger wing of the castle.The castle was sold to the MacLeods in 1680, and he built the nearby house.

the 5m-diameter tower, with modern door