Clackmannan Tower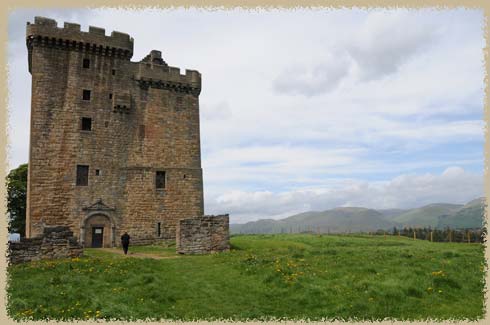 the tower stands alone in a sheep field
14th century tower
The tower has a commanding view of the surrounding farmland, perched on a hill (called King's Seat). The tower was originally built in the 14th century, and added to in the 15ths to reach its current size. Then, a second, even taller tower was grafted on to the castle, making this into an L-plan castle.
The older tower is 11.5m x 8.6m, and was originally only two stories. It contains a cellar and sleeping loft on the ground floor, a vaulted hall on the main floor and a bedroom above was added later.. The floors are connected by both a straight stair and spiral staircase.
The taller tower is six storeys, connected to the earlier tower, and has a kitchen on the third floor. When this tower was added, the parapet, corbelled corners, and machicolations were added.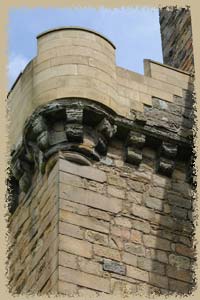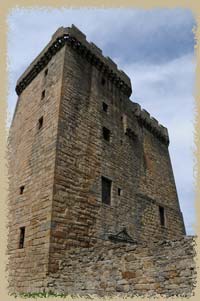 the parapets, partially repaired / a view up the taller tower from the courtyard
The current entrance - a securely locked door inside a stone arch, is not the original -- that owuld have been reached by a staircase, to enter the tower on the first storey, above the ground floor. The currnet entrance was added when the second tower was built and a stairwall was tucked into the angle.
The cellars and first-floor hall are vaulted, and there is a decorated fireplace in the hall. Upstairs on the third storey, thre is a mural wall passage.
A mansion was added to the tower in the late 16th century. It is completely gone except for fragments of a garden wall and terrace.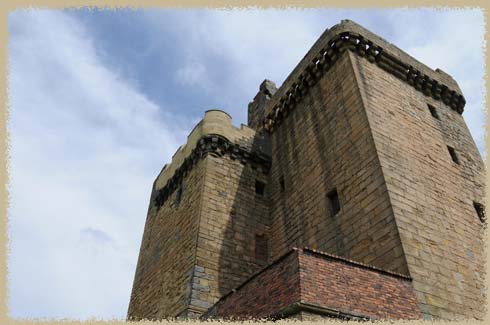 the tower has been repaired and stabilized, and is still being worked on
Ownership
A hunting lodge was first built on the site in the 12th century. The property is recorded as belonging to the Bruce family from 1359-1796. Robert Bruce - the illegitimate grandson of King Robert I, built the original tower here.
Despite financial problems in the early 18th century, the family held the house, but it was abandoned by 1791.
The tower is now in the care of Historic Scotland.
Restoration
The tower has had some serious foundation issues in the last century. In 1949, mining beneath the tower cause it to begin to lean, and part of the tower actually collapsed. It has been repaired (and is currently under even more repairs) to stabilize the building and allow visitors inside. Historic Scotland is handling the restoration work.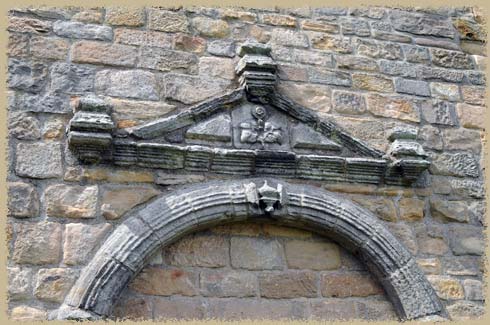 the decorative arch and header over the current entrance