Crossraguel Castle
I intiially thought that the little castle just down the road (Baltersana Castle) was Crossraguel Castle, but the notes on the abbey say that hte tower house incorporated into the reisdence hall was actually a castle. Very unusual.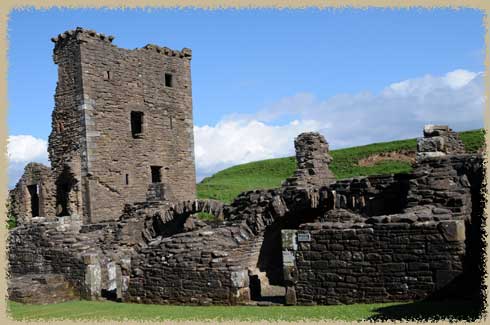 the tower is part of the nearby abbey
16th century tower
The Abbott's Tower, enlarged and remodelled by Abbott William Kenney in 1530 as a residence for himself and his young nephew.
The tower is 8.7m x 8.4m and has walls up to 2.1m thick - obviously meant as a fortified dwelling. The entry is through the turret to a small foyer in the west corner. The basement had its own entrance and a stair to the hall. The upper floors contained living quarters.
It serves as a gatehouse to the abbey. Only a single corner remains of the tower, which has a vaulted cellar and first-floor hall.