Dalcross Castle
Yes, ai know - a crappy picture, but there appeared to be some sort of event going on at the castle, so I coudln't convince Mark to go up the long driveway so I could get good pictures and he made me get out and walk back to try to get a glimpse. So - this barely gives any sort if odea of thsi rather nice castle at all. Hmph.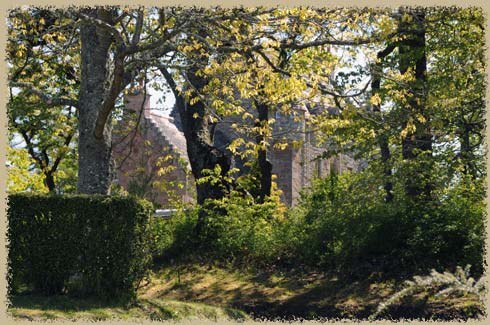 taken through the trees, since I am leery of trespassing
17th century tower
The L-plan castle here dates from 1620. It has two wings, one of them a five-storey block with an attic, and the other with three storeys. Ther eis a small stair tower tucked into the angle of the two towers. It's not quite an "L", actually, the corners of the tower meet, instead of being perpendictular to each other, and the connecting stair tower makes it more of a diagonal layout. It is possible that they were entirely separate for a time, before the stair tower was completed.
The two towers were built at slightly different times -- the main tower in the 17th century and the shorter tower in 1703.
The upper floors are private bedrooms, with two storeys of them over the main hall in the taller tower. The upper floor is partially in the attic.
There are a number of gunloops in the walls, and some of the windows still have iron grating across them for security. The entrance leads to a vaulted cellar, kitchen, wine cellar and three other large rooms, witha staircase leading to the first-storey hall.
The castle has 850 acres of gardens and forest grounds.
Ownership
The lands here belonged to he Frasers of Lovat; the 8th Lord Lovet built the castle in 1620. It remained in their hands until it passed to the Mackintoshes in the 18th century.
The Mackintoshes added the slightly smaller north weing, which is dated 1703.
It was abandoned and left to ruin, only restored in 1897-8 and re-occupied in the 20th century.