Duns Castle
We had a personal tour of the house -- we showed up on a slow day, and got an in-depth-into-the-nooks-and-crannies sort of walk through the house. It was fun! Photographs are not allowed inside, unfortunately. See the page from Undiscovered Scotland for some interior pictures.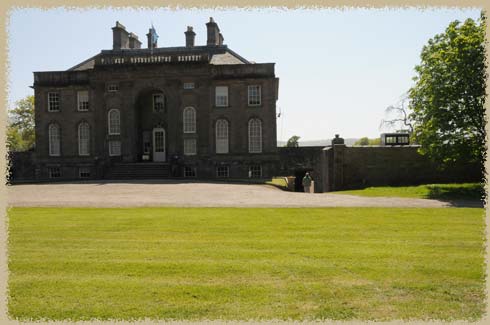 symmetry is everything in Adams design
Georgian House
The House of Duns, dating fro 1730, was designed by William Adam, and has the instnatly recognizable symmetrical and pale-pastel rooms of the Adams style. It was built for David Erskine, 13th Laird of Dun. THere were a number of proposed designs for the house before the plan from Adams was accepted. It took 13 years to build thehouse, and the plasterwork in the main salon was noo copmleted until 1743.
There are beuatiful gardens surrounding the house, and it stands in a nature preserve. The redwood trees planted as part of the main drive are some of the largest in Scotland.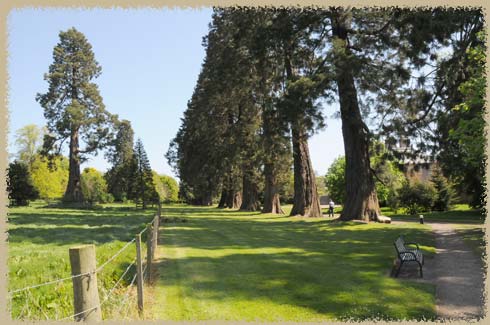 the enormous redwood trees lining the garden walk
Ownership
The estate was purchased by Robert Erskine in 1375, and a smal tower house was built on the property. The tower house was inhabited until the early 18th century when David Erskine decided to build a grander, modern house.
The original castle at Dun was destroyed and replaced with the current house. It was the family residence until 1947 when the heir, IMllicent Lovett, leased out the house as a country hotel. When she dies in 1980 the castle passed to the National Trust.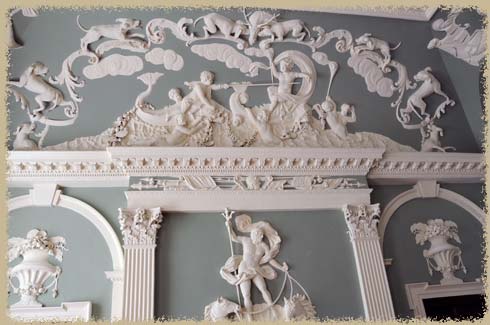 some of the plasterwork in the main salon