Forse Castle
There are dozens of castles along the northeast coast of Scotland -- drive up the main road and no only are the views out over the coean breathtaking, but there are tons of ruins...if you can fine them. Forse was pretty easy to fine (although it was quite a walk from the main road.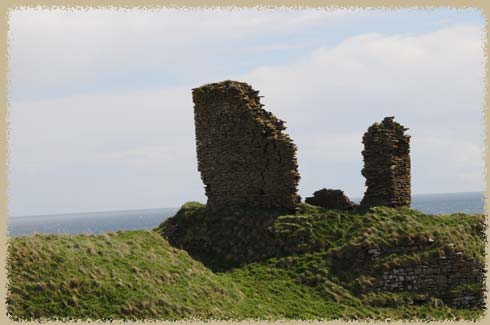 the castle is separated from the shore by a ditch
13th century tower
The tower is here on a small rock jutting out into the ocean, separated by a steep ditch and protected by steep cliffs.
The tower may be as early as the 12th century, but the ruins here are likely 13th century. Only a few small shards of the tower still stand. There are the foundations of some out buildings.The tower measures 10m x 7.5m, with 2m thick walls.
The floors were placed in setbacks of the interior walls, each notch holding a floor. The cellar was reached by a trapdoor in the floor and has no direct entrance from the ground. The original entrance was on the first floor.
There was a serious collapse in 1994. No fireplaces or stairs survive inside, they may have been part of the collapsed western corner.Most of the internal features have fallen down the cliffside to the beach.
A 15th-16th century block of buildings exists to the west side of the tower, and there are foundations on the east side as well, but nothign remains. It's possible to get down to the beach (there is a knotted rope nearby!) but we ddin't venture that far.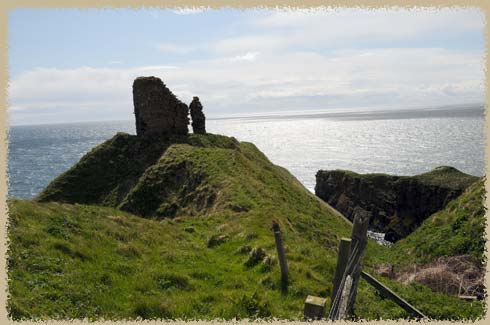 the small outcropping once had foundations of two ranges of buildings
Ownership
The lands belonged to the Chayenes family, but passed through the hands of the Keiths and Sutherlands before being abandoned in the 18th century.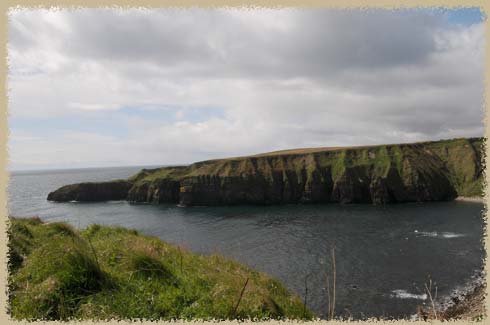 the view from the castle, into the small bay