Inveraray Castle
Tired and hungry, we drove into Inverary in the rain and stopped briefly at the castle before we headed to dinner and our B&B to crash.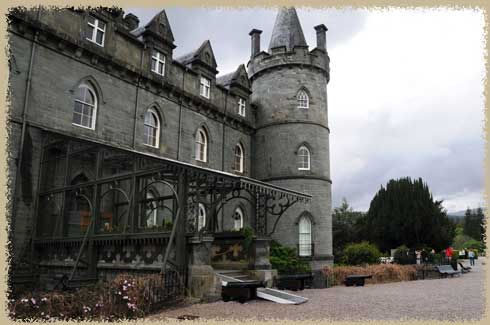 the gothic-fairy-tale of Inveraray Castle .
18th Century house
Inverary has an interesting history, and the house itself is a grand and imposing manor house.
There was a 15th century castle here, with a four-storey keep with bartizans -- the standard sort of layout for a tower house of that century. It is long gone, of course, replaced by the gray-stone towers and gothic facades of the current castle.
The foundations of the earlier castle lie in the field across form the main entrance - just a few stone markers in the grass, nothing remains ofthe tower itself. Traces were found during archaeological excavations in 1966 and the foundations marked. It measured 15.5m x 10m with very thick defensive walls. It was remodeled by Archibald, the 7th Earl in 1592. By the 1740s, the tower had begun to fail (it apparently cracked) and the new house was started in the courtyard.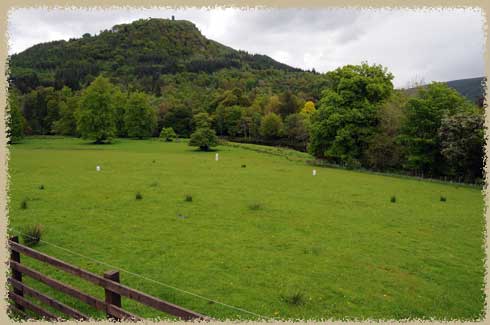 the three concrete pillars marking the foundation of the original castle
The house here was remodeled by William and John Adam in 1743, and further remodelling was undertaken after two fires here in 1773.
Ownership
The Campbell Earls of Argyll have owned the property since the late 15th century, and Colin Campbell is credited with the building of the first castle here in roughly 1457.
Mary Queen of Scots and James V both visited here.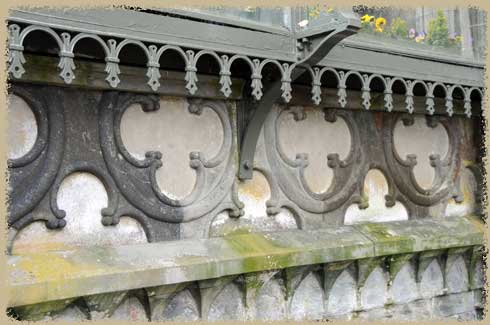 detail of the ornate entryway passage - a marvel of victorian ironwork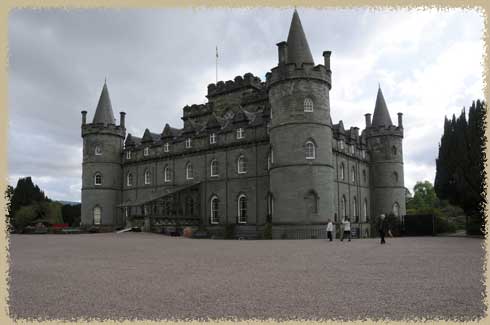 the castle is stark and gray, and seems sort of french-chateau-ish