Inverness Castle
While the office buildings here lookI like a castle, sort of, it's all a modern recreation. The original castle of Inverness is just a tiny fragment of wall, a stair tower, incorporated into the civic building erected no the site in 1835.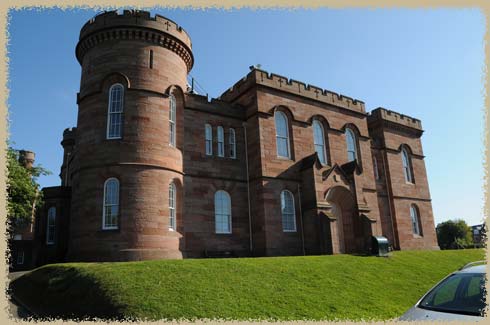 the modern office building of Inverness Castle
19th century office buildings
Inverness is an important city, and the site here on the river has been inhabited since the Picts built a stronghold here.
Ownership
An early castle here owned by the Macbeths was destroyed in 1057. David and William (the Lion) built a courtyard castle ont he site, but it was seized by the English and not recovered until 1310 by Robert the Bruce.
In 1427, fifty highland chiefs were imprisoned in the castle by James I, until they provided sureties of their behavior and continued support. Not everyone was happy about it, of course, and the Lord of the Isles, one of the more powerful chiefs, returned to sack the town a few years later, but the castle remained standing. It was finally captured in 1455.
The castle remained inthe hands of his family until he was forfieted in 1476 and the castle was in various hans through the next two centuries. It was badly damaged in 1659 and was only sumarily repaired by the government in 1715 and finally blown up by convenanters in 1746 after the Battle of Culloden.
The currnent building dates from 1835 and is used for the local courts and police department offices.

an octagonal stair tower and taller lookout tower - the stairs may be original