Orchardton Tower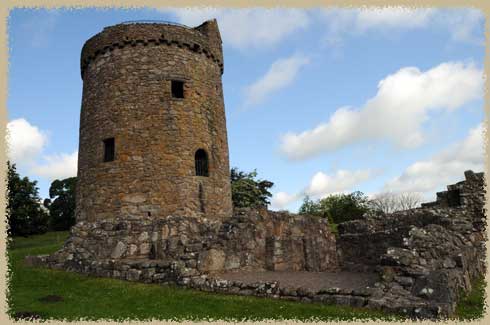 one of the only round tower houses
Free-standing Circular Tower House
Ireland has the tall, chimney-like round towers, and a few round castles (Nenagh, for example), but Orchardton tower is the only round tower house in Scotland.
The four story tower here is unique - a large free-standing round tower that was never part of a larger castle or the drum tower of a courtyard wall or gatehouse -- it's just the tower - alone. Built in the same tinme period as the ubiquitous rectangular tower house (the 15th-16th centuries) it has the same basic layout as those simple towers, except it is round. The tower is about 9m across, which is a surprising amount of space -- even with the thick walls, the four floors have about 1200 sf, a comfortable size for a small family. Add in the outbuilding, and this would be move-in-ready...if it had electricity and water.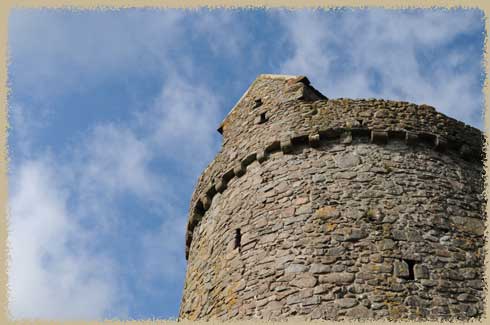 the gabled caphouse, covering the top of the narrow staircase
Ground floor vaulted cellar, first floor main hall, private chambers above. The entrance is on the first storey, reached by an external staircase, and the basement has its own entrance. It is not connected in in any way with the upper floors. Other than the slightly squared-off room in the bsaement, the rooms inside are actually circular - unlike a number of round gatehouse or courtyard towers that are round on the outside but have generally square room inside.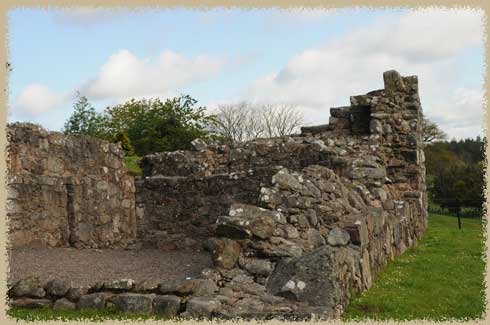 foundatoins of the hall, bakehouse, and other outbuildings
A very small, very narrow spiral stair inside starts on the second storey and rises to the caphouse on the roof. The bedroom on the third storey is large and has two large windows, but the room above is small and dark. The views from the open rooftop are quite pretty, though!
The parapet is corbelled out, and a small caphouse on the roof overlooks the foundations of outbuildings and a small courtyard that would have surrounded the castle when it was built. The foundations date from the 16th century, and probably contained a main hall on the second storey level, even with the main floor of the round tower.