Traquair House
The Brewery
Unfortunately, the brewery was closed when we stayed -- not the right season, so while we happily drank their ales at the restaurants in Innerliethern, we coudln't see the brewery itself.
The current brewery was founded in 1965 by the 20th Laird of Traquair (Peter Maxell-Stewart) and is currently managed by his daughter. But it was orignially an 18th century house brewery -- making beer for the estate. All of the equipment remained in place, untouched, when it was mothballed in the early 19th century. From what Ellen told us, most of the equipment used when the brewery was reopened was from the original household brewery.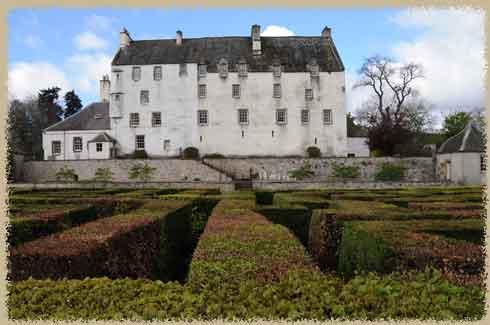 standing on the stone in the middle of the maze
The Gardens
The old walled garden is up the road from the house, and now contains a restaurant. We didn't venture too far into the walled parf of the gardens (except to manage to drive out the ingress-only lane beside the stone walls. We did, though, spent a lovely morning after breakfast wandering around in the kitchen gardens and the enormous maze out back.
The original estaste emcompassed a large area of Ettrick Forest, and even though the estate is much reduced, ther are woodlands around it. There is an absolutely enormous tree out behind the house -- and a circle of yew trees that were part of the old forest. There are trails around the grounds that have some amazing views (had we thought to bring a camera instead of just wandering off into the trees).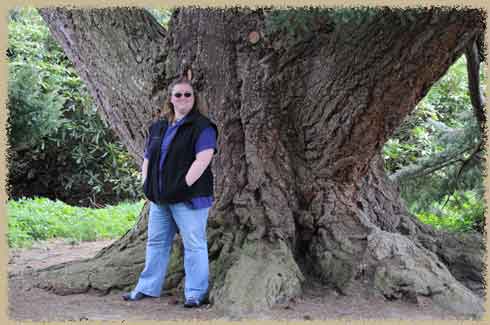 standing under one of the enormous douglas fir trees
The maze is a lot of fun, too. It's not original to the house (it was planted in 1981), but it is absolutley enormous - almost half an acre. Originally, there wuld have been formal gardens here. THe maze has no dead ends, four quadrants, and four sub-centers befor eyou reach the stone in the center of the maze. It's a quarter mile if you never take a wrong turn -- I figure I walked about two miles, I can't ever figure these things out! Mark, being tall, apparenlty has a distinct advantage. Luckily, it is easier to get out (via the cheaters gates) than to get in!
The maze was originally cypress trees, but Traquair lost 2/3 of them to cold only two years after planting. The replacement beech trees are much hardier and the resulting two-tone pattern is interesting.