Telford Bridge
This is also known as the Craigellachie Bridge - a cast-iron span bridge that we could see form our hotel. It's a quick walk down to the water (although not a very obvious one).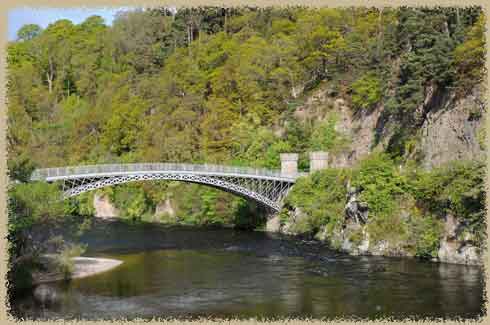 the cast-iron spans over the river Spey
We could see this from our hotel, and managed to take enough time from our whisky tasting and touring to take a few pictures, but none very close up, unfortunately. The bridge was in use until 1972. It is open to pedestrians, but the road is too narrow and the turns too sharp for anything but the shortest vehicles, so they are banned from the bridge.

original plans for the bridge -- with a hard 90-degree turn at the end!
The design is by THomas Telford (who also designed the Clachan Bridge near Oban, and dozens of others) and when it was built the enormous single span was quite an engineering feat. Most bridges of the time (1812-14) were masonry arches, and understandably heavy. This was a light-as-air confection compared to the others. The bridge was cast remotely at a foundry in Wales and transported to the location in pieces.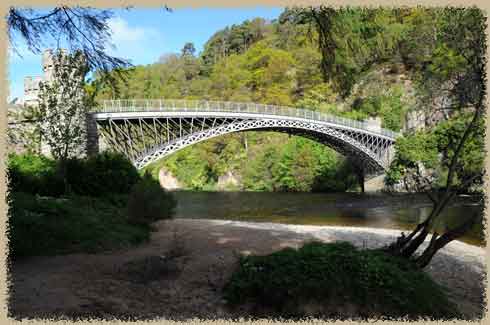 view of the bridge towers form the shore of the river
The ends of the bridge are mock castle towers, complete with arrow slits.