Scott Monument
This is one of the primary attractions in the Prince's Garden (near Prince's Street) -- an overly-ornate concoction of stone dedicated to Sir Walter Scott. It is a particularly gaudy example of Victorian Gothic style -- all detail and frou-frou, darked with soot and pollution.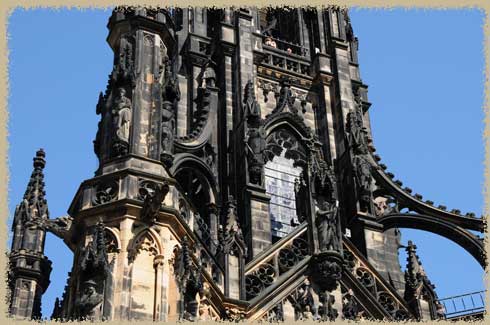 the pollution in Edinburgh has not bee nkind to the sandstone monument
With a View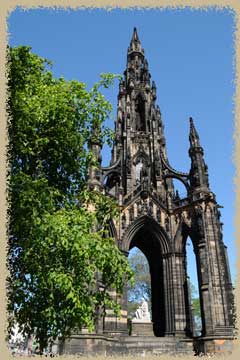 The two-hundred foot tower has 287 steps to the highest viewing deck.
The monument looks particularly grimy, which might actually be a side-effect of the choice of stone used to build it -- a particular type of sandstone known to attract dirt easily...making the ornate gothic carvings look even older than they are. It may have actually been designed to be darkened by soot.
The monument was finished in 1844, after a public contest for the design, which was won by a self-taught draftsman and joiner named Kemp.
We didn't climb up the monument -- it wasn't open when we went past and we never ventured back down into the park. The views from the top are very good, and closer views of the statues in each of 64 niches, representing characters from Scott's novels.