Travelogue - Day 7
Maranatha Country House is a great, overdone Victorian pile -- the owner is a fan of Martha Stewart or Shabby Chic, an the effort she put into decorating the house (especially the dining room) is amazing. Everything is coordinated, everything is Just So, and it's quite charming.
We woke up this morning to scraping and bumping sounds outside our window, and discovered that a crew is re slating the roof just outside our room. Piles of slate, ladders, and a mattress on the roof.and three guys cheerfully getting ready to start for the day. I'm glad we checked before I wandered into the bathroom with it's sheer lace curtains!
Ms Venn couldn't keep us a second night, but she had a friend who also runs a B&B near Blarney and called for us. We dropped of our bags at Helen Allcorn's (since we couldn't' leave her a credit card as a deposit, we figured that leaving our luggage was a sure sign of our intent to return!). Many B&Bs take credit cards, but quite a few don't and it pays to check before you book so you aren't scrambling to pay for things in cash in the morning. THe credit-card companies have some strange rules about setting up to accept cards. It requires the machine and a chip and all the account stuff set up -- and, as we are used to here, it costs the proprietor extra to accept them, so it's not unusual to see a surcharge for using a credit card. Most of the purpose-built B&Bs take the standard credit cards, and any guidebook to B&Bs will list which ones do and do not.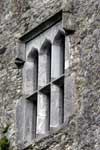 We've been in Ireland for a week, and one of our priorities today is get laundry done somewhere, preferably a drop-off laundrette, but when you're down to one clean pair of underwear, even a coin-operated machine would be fine. Mrs. Allcorn recommended a launderette in Tower (the next small town down the road from Blarney) and we dropped off two bags of stinky clothes. We usually pack about a week's worth of clothes and assume that we'll find someplace to get them cleaned. Occasionally, we've spent a few hours looking for a laundry, but it's usually a pleasant sort of search and we can enjoy lunch and a wander around town while they get things done for us. It's better than hauling enormous suitcases!
While we found the laundry with no problem at all, we did spent a fruitless hour waiting in the parking lot of Barryscourt Castle in Carrigtohill. We arrived early and sat in the car waiting for the ten-o-clock opening time, until we realized that they weren't going to open at all: the spring hours notice was entirely pasted over and everything was locked up. I did peer through the grates and take a picture or two. I keep waiting to get nabbed for attempted break-ins or something, since we often are hanging over the top of the gate, or trying to squeeze through enough to get a picture. I suppose if someone saw us, we might get a stern talking-to.
Whisky? Whiskey? What is in an E?
The rest of the day went much better, and we spent the afternoon at the Midleton Distillery tour. It's a Jamison distillery, really, but the old distillery is now a tourist site. There is a new modern building down the road, and the turn-of-the-century complex was closed in 1974, carefully repaired and restored, and opened to the public. Not only do I love the old buildings (yes I'm a freak) but the tour is very interesting.
I never really knew the difference between irish whiskey, scotch, and bourbon -- they are roughly the same recipe; the difference lies in the distillation process. Bourbon is distilled once, scotch twice, and Irish whiskey three times. Also, the malted hops (sprouted hops) are toasted over indirect heat for the Irish version, while Scotch is toasted over peat fires, hence the peaty-smokey flavor of single-malt Scotch. In comparison, Irish whiskey is very smooth and very "bright". With that three-times distillation process, the huge copper stills reduce 32,000 gallons down to about 1,000 gallons of whiskey. It only gets the lovely gold color after it is aged in casks, for at least seven years.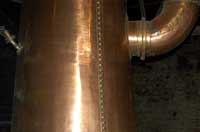 I had the chance to compare them directly at the end of the tour. When you are standing in the last room of the tour, discussing the casks and aging, finagle your way to the front of the room and volunteer immediately to be a "taster". They'll pick two women and two men to do a comparison tasting of Scotch, Irish whiskeys, and American bourbon. Everyone gets to go back to the Tasting Room to get a glass of the whiskey of their choice, but the four tasters have a chance to taste all of them. I got to compare Johnny Walker Red Scotch, Jim Beam bourbon, Jamison 7 year, Bushmill's 7 year, Paddy's, and Powers -- all of them quite different.
I'm a wine drinker, really, and I never thought much about how tasting whiskeys is really the same -- different aromas, different tastes, different finishes. Jamison is smooth and only has a hint of a bit to it, Bushmill's is sweeter and smells almost flowery. Paddy's is so light and perfumey it doesn't seem like a whiskey at all, while Powers is spicy and hot. All of these whiskeys are distilled by Jamison -- they just do several different styles, since the distilleries consolidated.
I did discover that I hate bourbon and really do prefer the smoke-peat flavor of Scotch (although I can't say that I particularly like Johnny Walker anything.)
Mark bought a bottle of Midleton Very Rare, which is only available from the Midleton Distillery. It was painfully expensive, but I suppose dif you aren't going to drink much of it, you should drink the best. At least it came in a nice wooden box with a nifty brass plaque on it.
We had lunch at the distillery restaurant, and met a really nice military couple on vacation. He was a light colonel, we think, and they were stationed currently in Germany. He had spent a year or so in the gulf and some time in Kosovo, and was looking forward to retiring later in the summer and moving to Seattle, WA. We chatted through lunch and traded "best things to see" before he all headed off in different directions.
I'm getting quite frustrating with my inability to match The Dots on the map with actual buildings -- we just aren't able to find some of them, despite inputting the coordinates in the GPS and trying to follow the arrows. I'm quite certain that The Dots do not lie, despite Mark's dramatic announcement that we are being "misled by the dots!". I think the problem is that some of the things I marked are only scant remains, and we are just missing them over the hill or behind the hedgerows. It's kind of like geo-caching, I guess -- we have the coordinates where things are supposed to be, but sometimes we need to tramp through fields or in the woods to find them. Sometimes we're lucky, other time.it's a wild goose chase.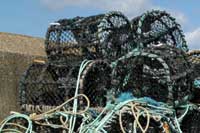 We never caught a glimpse of Castlemartur, nor the castle in Ballycotton (although I was pretty sure that the stone wall backing up to the main street shops was the only bit that remained). We looped around Ballycotton a few times, and drove down the main street of Shannagarry at least three times (we should have started to wave at the people walking!). We have some lovely pics of the quay with all the fishing boats and crab pots. Mark really likes to walk down the docks and see the boats, which is a fair tradeoff for making him slog through wet fields to see four big stone blocks, like I want to. I'm sure that my un-fascination with stinky fishing boats equals his disinterest in medieval loos. Hah!
We had more luck in Cloyne, which boasts a round tower, a lovely stone church, and the remains of a Bishop's House (a fortified manor house) on the main road. The round tower here is locked in a small lot across form the church, with some explanatory plaques. The tower has a flat top -- the original conical roof was hit by lightning, which destroyed the roof and some of the windows. Come to think of it, quite a few of the round towers we saw have "new" roofs. Lightning strikes must be pretty common on the structures, which tower over most other buildings by two or three stories.
We realized that we needed to pick up our laundry about half and hour before the shop closed, and rushed back to Blarney/Tower. We're getting pretty good at the mess of highway ramps and loops around Cork. Being able to drive on a four lane motorway is a bit of a relief after roaring around on narrow country roads. We did stop for fuel, and met a lovely gentleman driving a 1948 Aston Martin. He stopped Mark from putting gas into the diesel tank (in Ireland, the petrol pumps are green, which is the signal color for diesel in the states), which was awfully lucky, and told us to head up to Doolin and visit Macarthy's Pub for live music. Every single person we've talked to has had suggestions of where to go and what to see, and we've had people pull out maps and give us directions at the slightest mention of our (nonexistent) plans.
"Where are you headed?"
We'd shrug, smile, and say, "Clockwise 'round Ireland for a month."
I end up with notes scribbled on everything from napkins to fuel receipts and opened envelopes pulled out of the glove-box, from waiters, bartenders, taxi drivers, gas station attendants, people in line for the loo, and stray travelers in B&B lounges. It's fun!
The Gift of Gab?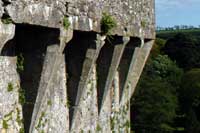 Once again in possession of most of our clothes from the laundry, we decide to brave the crowds at Blarney Castle. Despite the hype (and believe me, there is serious hype), the castle is well preserved and quite interesting. Everything from the crumbled remains of a fireplace to a blocked up door are carefully labeled, so it's one of the few ruins we've been in that is self-documenting. We poked around the dungeons, walked through all the passage rooms in the walls and generally dawdled going up to the battlements so we could get up there with a bit smaller crowed to do the whole 'kiss the blarney stone' thing.
I don't really bend that way, but Mark gamely shimmied out over the ledge and leaned over to kiss the stone -- which is just one of the regular stones in the overhanging battlement, and you get levered out over the eighty foot drop. It's got bars and such to keep people from falling, and an attendant to hold your legs, of course. It could have been a stone at ground level, of course, but the fun of doing the contortions certainly attracts a bunch of people.
My sister was in Ireland a few years ago. She has Cerebral Palsy and has a hard time walking. I can't believe that she made it all the way up through the narrow stairways and rough steps to kiss the stone, but she did. They must have hoisted her up the stairs by force. She doesn't do stairs well, despite being pretty damned determined. Down would be easier, of course, but it must have been a spectacle.
It was getting cooler by the time we got out of Blarney Castle (with a series of pictures of Mark kissing the Blarney Stone. He didn't seem any more loquacious than usual, though). We did a quick detour to see the odd, bottle-shaped round tower in Waterloo. The woman at the laundry suggested we go take a look. I don't know when it was built (or repaired), since it doesn't look particularly monastic, but the view from the churchyard at the top of the hill was a lovely place to watch the late afternoon sun.
Duplicate Dinner
We aren't usually so boring, but we went back into town for dinner and ate at the same restaurant. The food was really good, and since the pub was crowded with people, we opted for "good food" over "new". We weren't disappointed. The lamb was superb. After dinner, we were wandering in the lobby of the hotel and were drawn by a strange mechanical contraption attached to the ceiling. It looked like an antique blower or gas heater or something. Another couple caught us staring up at it like idiots, and after a moment, all four of us stood underneath it trying to figure out what it was. Heater? Sprinkler system? Siren?
The brass and steel contraption was obviously a breathalyzer, we decided with much laughter. If your breath could ignite the burner and melt the chandelier you shouldn't drive. (Really, we're pretty sure it was part of an antique heating system -- blower and gas lit pan, although a few pieces were missing. The MacGerald's invited us for drinks at the pub in Cork, but we were exhausted (and apparently didn't communicate well, since we both thought the other one didn't want to go, and so we declined). It was already nearing 11pm and we wouldn't have made it back in one piece.
Night life in Ireland begins about 10pm, though. Music in pubs doesn't usually get up and going until then, and dinner reservations are usually at 9pm or later. We are freakishly early -- eating dinner at 6 or 7 and falling into a stupor by midnight each night. Pleading exhaustion, we drove back to the new B&B and let ourselves in as quietly as possible. Mrs. Allcorn, noticing that Mark is very, very tall, had pushed together the extra-long beds in our guest room to create a king-sized bed. It was heavenly!