Travelogue - Day 6
Breakfast this morning was a cheery and crowded affair, served by our host's husband -- who is from New Jersey. We spent a few minutes talking about our trip and our lack of plans, which seems to just flummox everyone we talk to. What do you mean, no plan? No reservations? Where do you sleep every night? This from people who run the B&Bs that we stay at, and have to be used to seeing people on short notice. I'm surprised more people don't use the 'get a car and drive around' theory of travel in Ireland -- it's gorgeous, the people are friendly, and you can't help but see interesting stuff no matter where you end up.
Once our hosts discover that we have no real itinerary, they are chock full of suggestions of things to do nearby, and opinions on the "must see" list across Ireland in general. We've been able to see some truly stunning, off-the-beaten-path things because we followed a tip from one of our innkeepers. I know that if someone came to stay at my house, and asked me what they should do in Colorado, I'd be hard-pressed to come up with a list. I live there, I don't really think much about what people might find fun and interesting for a vacation!
Our bed was small, and Mark is a bit crotchedy this morning, though. B&B rooms can be a crapshoot -- enormous to tiny, bright to dark, extravagant to plain, with shower or without, one bed or two. You can be sure that they are universally clean, though, and it's part of the fun to see what you end up with at the end of each day. Two twin beds is common, and finding a bed large enough for Mark to stretch out on is a real treat! Most of our rooms had an ensuite bath (this is more common in Ireland than I remember in Scotland), and thankfully heavy draperies to keep out the rising sun at 3:30am. This is an important criteria for choosing a room, in my opnion. We travel late spring/early summer and at the northerly latitudes of Ireland, the sun is out until midnight and back up around 4, so the night isvery short and often not too dark. Having shutters or heavy drapes (or, barring those, an eye mask) makes it quite a bit easier to sleep. Although I have to admit a certain fondness for wandering around at 11pm in the twilight blueness.

We took a quick walk after breakfast to investigate the squat stone building that I could see from our window. Just down the lane, the remains of a Norman tower sit along the cliffside, overlooking a tiny cove that opens out to the sea. Walking down to the tiny, rocky beach, we sat for a bit watching the sun warm the stones, and enjoyed the view. The tiny walkway back up to the road is lines with wild onions and chives. THe pungent smell followed us all the way back to the car.
And we become Tourists
Our goal this morning is Waterford Crystal, one of the major tourist attractions in southern Ireland and producer of those lovely cut-glass glasses and vases that are everywhere. The factory in Waterford is easy to find, since signposts everywhere point to the enormous building, and you can usually follow a tourbus or two directly to the parking lot. We were early, so only one bus had preceded us, so we had a nice, uncroweded tour.
The factory is well set up for tours, and you basically walk through a short piece of the production floor, alternately watching the glassblowers and then the cutters and engravers as the tons of glassware are produced every day. IT's quite fascinating to watch, and I was surprised to learn that the cutters (who grind those lovely patterns into the glass using huge diamond wheels) not only do this freehand, but that they are paid by the piece. Every single glass is cut by hand -- although it seems that at least part of the process could easily be done by machine. Master cutters do the larger pieces and trophies, and we had a chance to see one of the master cutters set up and start a large bowl. It looks like magic, and they are incredibly fast. Tedious work for the standard-glass cutters, though.
Mark was already starving by the time we finished the tour, and so we stopped for lunch at the little cafeteria in the Waterford factory. Decent sandwiches, and it kept him from perishing from hunger. We drove along the quay in Waterford and found a parking spot The waterfront is a bustling place with dozens of boats and docks, along with hundreds of cars and most of the population of Waterford during the lunch hour! Most of the towns we've been in are very small, and Waterford is a fair-sized city. There are churches aplenty here, including Balckfriars and St. Mary's, as well as the round bulk of Reginald's Tower, not a visitors center for the city.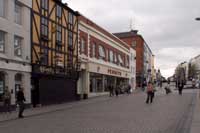 There is a big pedestrian mall just across from the shipyards, and we wandered around a bit to buy caramel cookies and diet coke for the rest of the trip (I told you, we really do tend to eat cookies as main meals on some days) and try to track down an ATM for cash. We did find one, but the limit of 200 euros a day is a bit frustrating. We're not sure if it's that specific money machine (or cashpoint, as they are called here) or limits in Ireland in general. No worries, we have plenty of cash, but we'll have to stop more often and pay more fees, I guess. Nearly every place takes credit cards, except some of the smaller B&Bs which prefer cash.

It's only a short drive to Jerpoint Abbey, and we once again got to test our knowledge of abbey archiecture. The cloister walk here is almost complete, and enough of the walls remain to see how this vast monastery worked. I just love poking about the rocks and ruins of these places, imaginging how it was when people lived here, seeing the stone steps worn by hundreds of walking feet. Many of the ruins are picturesque, with lovely settings on the river or surroudned by dense woods. Jerpoint is remarkably complete, although most of the monstary is gone, so we were surprised by the size and scope of our next stop -- Kells Priory. The young woman at Jerpoint gave us perfect directions to find Kells and we drove straight there.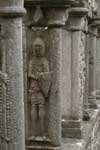 This is not the Kells that produced the famous Book of Kells, but is instead an amazing, nearly-complete walledabbey and medieval village. The approach over a small brook and along the outer wall hides the extent of the ruins, which stretch out from the church for several acres. It's hard to make out without the blueprint from the travel guide, since many of the nearer buildings are nothing more than a knee-high pile of stones on the wall foundations, but the main tower is in place, and the walls that surround the monastery also enclose a huge courtyard with a gatehouse and fortified towers. There aren't any labels on the buildings, and the jumble of fallen stone makes it hard to see the outlines of things near the church.
As we walked around the walls (12-14' high) and peered into the towers, we came to the conclusion that there may have been a natural moat at one time, as well, since we can see arches and barred tunnels at the bases of the towers (filled in now with dirt and grass). From the walls, it's possible to see the church, the monastery buildings, the bakery, brewery, and other storehouses. I would really like to get an aerial view of the site. The main tower of the church is enclosed in scaffolding, so we weren't able to climb it and get a better view of the monastery. Mark tried. I think he'd have scaled the wall if I hadn't protested.
After spending an hour or so just lazing in the green courtyard of Kells, we drove off and stumbled upon Kilree round tower and church. It's in a small churchyard, right off the road, and the 100 foot tower is visible from most of the nearby countryside. I wonder if there is a specific rule for how tall the towers can be built, or if 100 feet is about as tall as you can build a stone tower without some other sort of support., so they are limited by the physics of the thing. Most towers are about a hundred feet tall, slightely tapering, and capped with a conical roof and four windows facing the cardinal directions. This one is roofless and the tiny church nearby has a lone celtic cross in the field nearby. It looks like the church is still in use -- glass in the windows and modern door. It's locked, though, and since it's starting to get misty we don't hang around too long.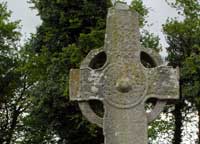 know that people often make pilgrimages to Ireland to see the dozens of ancient crosses, many of which stand at crossorads and in monasteries. They're interesting -- each one is carved with a story, and can be "read" like a book -- but we haven't been going out of our way to see them. The same with the thousands of neolithic graves and stone cairns. We stop when we see them, and poke about, but my interests seem to lie in the later stone ruins that have recognizable "modern" attributes. And, as Mark comments every time we stop at a tower ruin, I have a weird fascinations with medieval bathrooms.
Fashionably late
We've been running late all day, and since we need to be in Cork by tonight we head off down the road. I have a much looser interpretation of "late", and under my direction we stopped at the church in Cullen (where there is supposed to be a castle, too, but we never did find it) and drove a rather circuitous route to see a bunch of castles and stone piles along the way. Not many of them were visible.
I should probably explain the hedgerow issue again: Nearly every road, major or minor, is lined with dense, upright, and leafy green stuff. Hedges. Tall, sometimes really tall hedges. You can't see a thing from the road (unless, perhaps, you were driving a cherry-picker that lifted you up twenty feet), so even though the map, The Dots, and the GPS are quite clear that there's a castle just.over.there. You can't find it. Sometimes you can find gaps in the hedges that let you peer through, but at driving speed, that's unlikely. Mark suggested that we find a way to mount a "viewing chair" on the top of the car, perhaps on a spring, so that I could see things. We decided that would be a bit dangerous, and we decided that what we really needed was a Seussian car, with giant, egg-shaped wheels. That way, we could lurch along the narrow lanes, bobbling up and down to see over the shurbs and trees. This left me helpless with laughter in the passenger seat, and wondering just what sort of weirdo I married.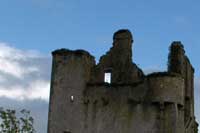 Mark is starting to resist my urges to stop, but we did make a quick detour in Kilchurch to see the church and the castle (on the same corner) in a field near the road. Kilchurch castle still looks whitewashed (harled, really, with a lime plaster), although it can't possibly be original.
The gray hulks of castle ruins that we see today -- often even in the restored tourist-museum pieces -- is not particularly accurate. Most were plastered inside and out, to protect the stone and provide some resistence to the elements. Outside, this process is called 'harling', http://en.wikipedia.org/wiki/Harl . This is as Scottish term for a building technique that involves laying down a coat of lime mortar, and then dashing on a mixture of small pebbles and stone chips, pressing htem into the base so that it creates a seamless, weatherproof, and often colored coating on a stone building. Inside, lime plaster covered most walls and was painted and decorated to make these stone hulks into comfortable buildings. Rushes on the floor, rugs, and furniture make them quite liveable. All those movies showing cold stone walls and gray floors? Not so much.
With the ultimate tourist town of Blarney as our final destination tonight, you'd think it would be well signed and easy to navigate. Nope. Not a chance! THe town has four main roads, and we drove all of them in an attempt to find our B&B for the night. In the end, we could have walked there from the center of town, but the driving tour of Blarney-town gave us a good idea where to have dinner. There are a few 'Gen-yoo-wine Irish pubs" in town, obviously geared towrads the many visitors to come to Blarney Castle to kiss the stone, and a few smaller venues off the beaten path that the locals seem to populate.
We tried to squeeze into one of the pubs, but we had waited long enough that it was standing room only and we were ready for a nice, quiet, dinner. So we ended up in the Blarney Hotel having dinner at Christy's -- populated mostly by hotel and conference guests, but the source of the best meal we had so far. We're in tourist central (Blarney-town, we've been saying) and I'd expect that food would be mediocre, as it usually is in tourist spots. But dinner was excellent. Mark had roast pork and I had chicken kiev absolutely drowning in butter-cream sauce that was so rich that I could actually feel my arteries hardening. Yum! Hot berries and cream for dessert, with black coffee and we were ready to drag ourselves up the hill, get into our room, and collapse in a heap.
The B&B for tonight was a truly over-the-top Victorian house, Maranatha House., run by an exceedingly cheery Australian woman with a Martha-Stewart obsession. Every single table, window, chair and sofa was decorated in huge floral prints, carefully matched for color, ruffled and covered in fresh flowers. She had set up the conservatory as a breakfast room, and it must have taken her hours to set up every day. Two colors of napkins folded just-so, flowers arranged in careless posies on each table, balloon curtains and lacy sheers on each window tied up against the sun. It was decorated to the nines in a rather overdone sort of way. Our room was similar -- lace and silk and three quilts and tableclothes and ruffled towels and fourteen bazillion pillows. THe effect, overall, was to be trapped in an ever-so-precious floral explosion, but the bed was comfortable. Of course, we were so tired we weould have happily slept on bags of pebbles.