Travelogue, Day 14
Ok, that's it. We've reached the limit of our clean laundry and in another day we're going to be offending each other and the random people we encounter every day. I can wear a pair of jeans quite a few times, and a t-shirt two days in a row is perfectly fine, but I draw the line at reusing underpants and socks. Since I'm not a "wash them in the sink" sort of person, we have to find a laundrette every week or so to drop off a bag of aromatic clothes.
We got a late start today - we just couldn't drag our slightly overhung bodies out of bed before 9 and mumbled through breakfast after an invigorating and startlingly fierce shower. How I miss the showers at home - here, the water pressure usually leaves something to be desired, even if the hot-water-on-demand means that you can bask in the steamy water for quite a while. That might be the culprit, actually. Nearly every B&B has a Mira instant hot water thing (often in the shower! Electrical!) that probably limits the amount of water than can flow. I've learned to look for "American-Style shower" for enough oomph to get the soap out of my hair. I'm not patient enough to wait!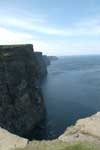 Realizing that we were at the last pair of clean socks, we started searching for a laundrette that could do our laundry before dinnertime. We lucked out - a little shop in Ennistymon would happily do our laundry for us, with the caveat that we had to be back to pick it up in 2 hours or we couldn't get it until tomorrow! Well, the Cliffs of Moher were just up the road, so we handed over the goods and took off for one of the most photographed coastlines in Ireland. All the way they, we were quoting Princess Bride dialog, 'Shrieking eels! The Cliffs of In-San-I-Ty!" Yes, we're odd, why do you ask?
The Shrieking Eels! The Cliffs of Insanity!
We passed two castles on the way to the cliffs - one in the golf course (Liscannor) and the other behind some gravel near Lahinch. We didn't see a way to get to either of them quickly, so we marked down the location and kept on. We arrived at the Cliffs of Moher in time to see four enormous tour busses disgorge hundreds of people, who headed into the 'Visitor's Center" (read: souvenir shop) like a hive-mind. We watched for a moment as they filed inexorably into the building with a sense of mounting panic - will they all fit? How are they going to even move in there? What could there possibly be inside to see that is better than the view out here?
One of the reasons we travel in the shoulder season is that neither of us can abide crowds of people milling around - standing alone on the hillside looking out over the sedge and heather and mist is a far different experience than standing on a hillside with a hundred other people all jostling for position. We've been lucky enough to have whole sites to ourselves for hours at a time, so we can poke around, or just sit and think and ponder our relative unimportance in the world. One of my favorite memories is the hour we had at the monumental Temple of Abu Simbel in upper Egypt - we rounded the hillside to find ourselves absolutely, completely alone. It was quite magical. We returned later with the crowds, and everything was somehow minimized, smaller, less impressive when we had to wind our way around the crowds. Maybe that makes me an unforgivable snob, but we try to avoid the "hot" tourist spots during the height of the season. We might get more rain or snow, but standing on the Hill of Tara in the misty rain, alone, is something to be experienced.
The Cliffs of Moher are a huge tourist draw, of course (and understandably so. Wow.) but they slice along the coast of Ireland as if a huge chunk of the island just fell off - sheer cliffs falling away 700+feet to the ocean. (It's interesting to note that these are not the tallest/sheerest cliffs in Ireland - those are out on the Dingle peninsula, apparently. They just aren't as easy to get to or quite as picturesque as these.)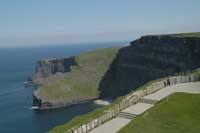 For once, there actually are fences and warnings along the actual cliffs and railings along the viewing areas to prevent accidents. But the fence and warnings are pretty low key, except the 'DANGEROUS!" placard placed across a low point in the second fence, which people were climbing over willy-nilly. We both followed, and Mark got a good picture of Danger Girl blithely ignoring the sign…of course, he was the one who ignored the SECOND, more DIRE sign and scampered off onto the cliff. He went down the rock facing to the huge ledge and kept inching towards the edge of the cliff. I hadn't seen the drop yet, or I might have fainted right there. I would have definitely fainted had I known that the current edge of the ledge is some 30' closer to the cliffs, since earlier this year the a huge chunk of the cliff face fell into the sea, taking a couple of picnic tables with it. Quite a few people crept out to the edge and peered over - while I didn't do it (are you kidding me?) the view would be spectacular, since the cliff overhang the sea, they don't slope gracefully down to the water. It would be like leaning out over just air. APparently for the adrenaline junkies, that's a fun exercise. I'll just stand way up here behind the warning sign, thankyewverymuch.
The pictures that I have seen of the Cliffs of Moher are beautiful, but they really don't do them justice at all. I'm sure my pictures are as flat as the others. We walked along the south cliff edge a big to take some pictures of the "main" scarp, where the tourist trail goes, when walked back to use the proper staircase and climbed the Victorian viewing tower for a better view of the cliffs' edge. Stunning.
Moonscapes
By the time we made it back to the Visitor's Center, the four busloads of tourists had come and gone. I grabbed some postcards and Mark (ever hungry) grabbed a sandwich from the tea room next door before we started back to pick up our laundry. Luckily we had half an hour; while we found Ennistymon easily enough, we couldn't remember where the laundrette was! We drove around a bit before things starting looking familiar. We screeched to a halt at 12:55 and ran inside to rescue our clothes. Ah, clean laundry. And another castle - Leamanagh.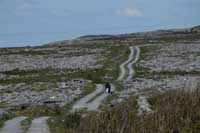 The Burren is marked on most maps of Ireland as a huge swath of grayish, lumpy hills, like a dead spot in the middle of all the greenery. It is a weird, freaky landscape of limestone with almost no vegetation at all. It's bizarre, really, a scene more suited to a desert than the lushness of Ireland. It has many neolithic forts, burial cysts, and dolman graves dotting the almost-lunar landscape. We walked along the road for a while, just taking in the bizarreness of the stone formations. Sometimes the ground looks layered and carved, like frozen plough rows or badly laid mosaic tiles. There really aren't any farms here, although it's obvious that someone tried at some point in history - short stretches of stone walls along the road the few houses are very different from the rest of Ireland, though. Clearing out fields in the greener parts of Ireland are carefully stacked slate and stones fitted tightly together. Here, thought, they are thick plates of stone stood upright, snaking along the ground like the spines of a half-buried dragon.
Only a few miles into the Burren is Newtown Castle (one of about thirty "newtown" castles in Ireland - I suppose when they built the "new" castle in town to replace the old one, the name stuck. There wasn't anyone in reception, so we couldn't get into the castle - we just admired it from outside. It's a huge round tower that is buttressed at the bottom into a square. It's currently being used by an art cooperative as a gallery of modern art. Something indefinable-- a stuffed something -- is hanging from the battlements. Mark spent a few moments staring up at it curiously, and pronounced "It's an Art."
Not "art", but "an Art", like something sort of odd and ugly that you can't help looking at.
I don't get modern art. I try, I really do, but I am heavily biased towards art that looks like something recognizable.
Spending any time at all in the Burren is a bit eerie. It seems like such an alien landscape and you can see the delineation of the strange burren-ground with the regular green fields. It's as if there is a creeping blight and the people have erected stone walls t keep it from spreading.
There are hundreds of neolithic sites in the Burren - cairns, stacked stones, circles, ring forts. Why would they live here when only a few miles away is lush, green, farmable land. I suppose that it's more likely they didn't live here at all - it was as weird and eerie a landscape 10,000 years ago and so they buried their dead here, or crept in to build religious sites in this strange land. There's a huge ring fort just by the side of the main road (Cahernaughton, I think). It's similar to those we saw in Cork, but it looks very different: the stone here, instead of being small and rounded and like stacked cobbles, are huge and square and laid very smoothly. I was reminded of stone temples, looking at this one, not a haphazard piling of loose stones into a defensive or protective circle. Like the earlier forts, it's round, with a single entrance and two ditches around it. It's amazing how different it looks with the huge stones. There are dozens of dolman (long, narrow) graves, and angled stone cairns - including one near Poulabrohn that we stopped to peer into.
Unexpected Castles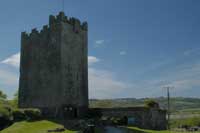 On the way to Ennis (which we are dreading a bit, after getting stuck in traffic for an hour yesterday!) we saw a sign for Dysert O'Dea castle. A very cool fine (and, I might add, marked with a dot on my map!) -- it's a castle and collection of other ruins under the care of a single organization that has handled access and other agreements with landowners to allow you to walk all over the sites. As I mentioned, many ruins and sites are on private land, and access rules do not always favor the hiker or tourist.
We saw the castle itself (which is partially refinished and houses a small museum), the abbey and high cross nearby, and then drove around to the Rath church and castle of roads that were barely wide enough for the car and undulated up nd down like a roller coaster. It's always fun when there is grass growing in the middle of the road!
While we were tooling about, we met a farmer in a huge tractor coming around the bend - he was stopped in the road to open a gate he needed to go through. He got out, motioned for us to wait, and proceeded. Ok, that's not so interesting really. What's interesting is that he was doing farm work while wearing a suit. We've seen at least one other person around here driving a tractor or other farm implement while wearing a suit coat and a TIE. It's a bit mystifying.
We were trying to find Rath, in an attempt to find the earthen fort listed on the tourist map, but got led astray by the walking path signs we had been following. We ended up driving the teeny back roads to back to the main road to Gort and surrendered to being lost. We passed a couple of neat castles, including Fiddaun, which was a ways back from the road with no obvious way to get any closer. That's true for a lot of castles -- even if we were willing to climb over fences or open gates, sometimes we can't even figure out where to do that.
Aghnanure castle is just as hard to see, for an entirely different reason - it's encased in plastic sheeting and scaffolding, which means either a) complete reconstruction or b) transformation into a hotel. It's probably a hotel. There is a huge push to remake some of these old piles into top-of-the-line hotels, creating a luxurious retreat, but in the process stripping off most of the uniqueness. Sad, but necessary.
Third string was the corner of a wall from Ardrahan castle, just by the side of the road. Seriously, you can't drive three miles and not fine one!
Shrubbery, Shrubberer, oh, hell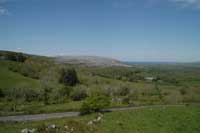 We're staying in Oranmore tonight -- another purpose built B&B. They're cropping up all over because of the tax breaks for construction if you rent out rooms for a specific amount of time. It used to be that most B&Bs and guesthouses were old houses where the owners cleared out a room or two and took in guests. The purpose-built hoses are usually very nice, catering to a foreign clientele with full en-suite bathrooms and "American Style showers" and king sized beds. I tend to like the old houses with the odd-shaped rooms and teensy tubs -- but there's a trade off, of course: teeny tub and odd shaped rooms! Our B&B tonight is small, and with a private bathroom.
When you read the ads there are three options that you'll see -- "en suite" meaning the bathroom is your alone and is in your room with no other entrance; "private" meaning that the bathroom is yours alone, but the entrance is outside of your room, often across the hall; and "shared" (or, more likely, no mention of bath at all), which is just what it seems - the bathroom is shared among many (or all) rooms. Keep in mind, too, that "bath" usually means toilet, sink, and shower. Tubs don't show up very often.
We ducked into a pub for dinner, Ti Ghearoid, in town. A very chic "restaurant" pub on the main street. Food was very tasty but it was very hectic, as we arrived just after a huge party. Mark had lamb (again!) and I had the curiously-named, "Texas Chicken". I can't say I've ever had anything in Texas like it - breaded chicken cutlets in queso sauce, but it was pretty tasty. I hate sitting in tall pub stools, though. I'm too short to reach the rungs properly and my feet end up dangling. Hmph.
Give us a few beers, and we start to get a little squirrelly, including repeating most of the "Shrubbery" skit from Monty Python, and concluding that the entire thing was a huge setup to be able to use the word "Shrubberer", which left us in paroxysm of laughter. Ok, maybe it was more than a few beers.
We discussed going to the Aran islands tomorrow - we're not sure if we need to have advance tickets or if we can get ferry tickets at the pier in the morning. Either way, we'll set things up tomorrow.
Note: The Super-Valu version of Malted chocolate cookies are EXACTLY the same as the brand I like. Exactly. This may not actually be a good thing, if they are available in even more places...