Travelogue - Day 13
As usual, we were off into the misty morning after a breakfast (with bacon!) and a couple of cups of hearty coffee. There were a couple of tower houses (including Ballyherbery) marked on the map just north of Cashell;they were easy to find, but hard to get pictures of. This is often the case. Short of shimmying up trees or hanging precariously off the tops of fence-poles, there isn't really any vantage point to take photos that do justice to the scenery. Going through the photos we took, there are quite a few glimpses of stone behind shrubbery. If they weren't dated. I'd be hard pressed to figure out if they were different piles of stones sometimes.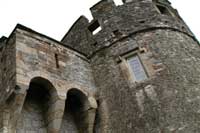 Some of the best moments in our travels have involved being overrun by hordes of schoolchildren - we spent a lovely rainy morning at Bannockburn with Scottish school kids, said hello and shook hands to just about every single gradeschooler in Middle Egypt, and our experience today was just as fun: we arrived at Caher castle at the same time as a huge group of uniformed school kids, rushing around for a scavenger hunt. They were running all over, running along the tops of the walls -- like everywhere else that is not the Nanny State, there are a few signs, but no real railings or barriers and I was sure someone was going to pitch off headfirst. A ton of work is going on, with scaffolding and tarps and machinery. It's an interesting castle though -- very much updated, since it was inhabited continuously for the last few centuries. But it is still a defensive castle - the bawn is enormous, and while the towers are short, the location of the castle on an isle in the middle of the Suir River offers protection on three sides (almost four).
Check the Undercarriage
Our hostess last night suggested that we go to Athassal Priory, and so we headed back towards Golden. It's a very pretty ruin, and I wished that we had visited last night, when the sunset would have gilded the stonework. There is no gate in the stone wall, but a rough stone stile gave easy access to the huge field. However, there was an entire herd of cows meandering around the ruin and as we approached, they got quite excited and started advancing. We paused a hundred yard away from the stones, facing off with a very large, very interested bovine that may have (or may not have) had the necessary equipment to be a bull vs a steer. We walked forward, he stomped. Since I am not a fast runner, I stayed hear the wall and let Mark wander closer to get pictures. Even he got a big nervous when the rest of the herd started circling. They were probably all steers, and probably just curious about us, but they looked quite capable of mayhem and we beat a hasty retreat, laughing that we were obviously "city folk" and it was ridiculous to be scared of cows. All I could think of was that bull riders are injured more than any other occupation, and I didn't want to end up squashed by a crabby steer the size of a Volkswagen.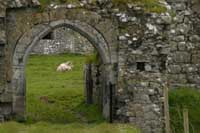 We never had any serious encounters with animals - although you do have to be careful, since a lot of land that looks empty and unfenced is used for grazing land for sheep and cattle. Sheep are stupid and startle easily, but cows can be pushy and, if you're not very carefully, that calm, docile-looking steer you are approaching may turn out to be a territorial bull. Beyond that, we saw a few goats, a couple of flocks of chickens, that's about it. There are still deer and boar in the forests here, but we never saw any.
Mark laughed at me when I insisted he pull over so I could take a picture of an overgrown gatehouse and a ruined tower. The path didn't lead anywhere, and I'm sure the people driving by thought we were nuts, but I stood in the road like a tourist and snapped pictures.
Happy Bunratty Land
Our primary stop for the day is Bunratty, with an enormous castle and estate which is billed as a Tourist Attraction. With a capital T. The castle itself is gorgeous, but there is a "folk park" -- hereafter referred to as Happy Bunratty Land -- that is a wee bit cheesy. That's pretty harsh, it's not so much cheesy as twee. They've moved or built examples of the type of houses and farms all over Ireland, from different time periods and different regions and put them together as a sort of weird medieval Faire, complete with actors in the houses playing part, live animals, authentic sounds and smells, the whole "experience". To be honest, it was really fun. There weren't many people, so it was quite nice to wander around unbothered by actors or wandering over-the-top characters, and not be pressed in by the teeming masses of people that I imagine take over the place in July. They've tried very hard to capture the feel of each time period and they did a very good job, if you could ignore the too-happy staff.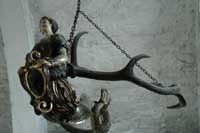 The keep itself is fabulously renovated, though. The owners started with a hulking ruin in the 70s and have painstakingly recreated the fortress with the original design and defenses. The rooms inside are plastered and furnished (often with 400-year-old antiques) and you can wander all over the castle using the multiple staircases in the corner towers. Most of the rooms are finished, but the more ornate are roped off. The private sitting rooms that would have been used by the Lord and family of the castle have been restored to their Jacobean splendor with paneled walls, hand-carved furniture, and the rather odd decorating motif of mermaids with antlers (used as lamps or chandeliers. These are called Leuchterweibchen and Lüsterweibchen, usually from Germany in the 14-17th century. They're really quite bizarre in a 'hm, why would anyone buy that…" sort of way. I have to wonder if these were considered the height of style or if they were the medieval equivalent of the wagon-wheel coffee table and jackalope. I suppose it's possible that the uber-rich picked these ugly-ass things and suddenly they became very desirable. I can't quite understand it, but people do collect those horrible ceramic dogs and Hummell figurines, so it's possible.
The only escape from Happy Bunratty Land is through the gift shop. A sure sign that things are a commercial endeavor! I have to give them credit, though, the commercial push is subtle and isn't obvious in most of the park.
In Search of Music
By the time we found the car and were ready to go, it was getting too late to look for Knappogue castle. We want to be in Doolin tonight so we can take in the local music scene, and it would be nice to be early to our B&B for once!
Doolin was recommended for its music - the couple of pubs in town are raucous ceilidhs on weekend nights. We have a tendency to crash long before the pubs get into full swing in Ireland -- a "night out" often doesn't even start until 10pm, by which time we've been asleep for an hour -- and we really want to hear some traditional music. Our B&B for the night is a purpose-built house and is the most sound-proof building I think I've ever been in. The whole things is poured concrete. A lot of people built or convert their houses to bed-and-breakfasts. There is a good tax break for the homeowner for a few years, that often covers the mortgage. Quite a few of the places we stayed were obviously built specifically as B&Bs.
Culhullins Seafood Restaurant for dinner - which, surprisingly, didn't have much actual seafood on the menu), was very nice. For all the atmosphere, the meal wasn't as good as I expected (and have come to expect - we've been eating like royalty here). Mark had lamb and I had chicken and risotto with a lovely bottle of wine and after dinner we walked off to take pictures of the castle we could see from the restaurant window. It was a bad time to take pictures - directly into the SUN. Lovely silhouettes, but not much about the actual castle.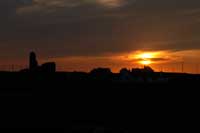 But, we saw an Internet Café sign nd were able to wrap up the paperwork for the sale of our house and fax it back to the realtor and check email and do the rest of the "connect with the world" thing. We walked back up the road to McCarthy's Pub by 9:30, when the music started. We didn't spend enough time in pubs listening to music, one of the national treasures - in hindsight, I wish we would have prodded ourselves awake a few more times.
Even after having a lovely evening with live music and too much whisky, I am utterly amazed at the number of people who crammed themselves into that little bitty pub! Standing room only and more people squashing in every minute. We did manage to snag a couple of chairs, and met a really nice couple from Belgium - they were both rugby players , backpacking around Ireland for a while, and we managed to squeeze in a young married couple from Germany, sharing a few rounds of beer and a couple glasses of whisky while trying to communicate in our very bad German and their slightly-better English.
I can assure you that our ability to speak a foreign language diminished with more alcohol, but we're much more likely to keep trying! We compared notes on where we'd been (realizing that we stayed at the same B&B in Stradbally) and sang along with the house band until far, far too late.
Slept like drunken logs in our super quiet bunker-like B&B.