Travelogue, Day 25
Another lovely night at the Barbican, and breakfast that included unlimited amounts of Irish Bacon. We stocked up!
I have searched and searched and cannot find a source for Irish-style (well, UK-style) rashers in Colorado. I am bereft. Seriously, this is not like American bacon and is 100x better. I could eat this stuff at every meal (and I have -- there has been at least one day where I had bacon at every meal). It's fabulous stuff. We grocery shopped in preparation for being " self-catering", and picked up eggs and bacon and bread and fruit for breakfast. And cookies. Can't forget the cookies
We found the Best. Cookies. Ever in Ireland -- Chocolate Malted Tesco wafers. I'm going to gain fifteen pounds eating these things. They are sublime.
We took a short walk around the grounds today. We've been warned to be "unobtrusive", since the owners of the estate are "in residence" and we need to avoid intruding. We can walk around the castle and grounds, of course, but we need to stay on the gravel path and not poke around too much. Understandable -- I mean, these people have opened up the gatehouse to strangers, but having weird tourists poking about your house would be a bit of a turn off. So we walked around the perimeter of the estate, and poked at bit at the walls and took pictures, but we tried to be as invisible as we could. The castle is pretty cool -- although not a true "castle", it is an interesting manor house.
Off into the world!
A More Relaxing Plan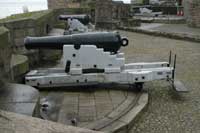 Yesterday was tiring and almost overly full, so we have a much more sedate plan for seeing things today. It's rainy and gray again today, but we swooped into Carrickfergus with high hopes. I was immediately kind of squicked out by the plaster mannequins on the walls of the castle -- which is well preserved and refurbished with interesting museum displays. They're kind of creepy! I can't decide if they're creep because they are too real, or because they aren't real enough, but having their lumpen, rough-edged plaster costumes hanging over the crenellations is sort of eerie.
The castle is really well preserved/refurbished, with displays and informational kiosks. Each floor has a different display, from early Carrickfergus,to how the castle defended itself, to how the building was restored. Interesting, if a bit too "processed."
We arrived with a bunch of school kids, and it was fun to wander around just behind them, to hear how they saw this stone edifice . I always like to visit places with hordes of children. OK, you'd think that it would be annoying or difficult with a classrooms-worth of school kids, but I find it tons of fun -- they have a unique perspective of things, and their energy and enthusiasm is infectious. (One of my best memories of Scotland, for example, was visiting the battlefield of Bannockburn with what seemed like a whole schoool-ful of kids!)
We ventured outside to see the courtyard and the gun emplacements, since Mark loves that sort of thing, and only whined a little that I was getting soaking wet in the Irish drizzle. Most of the castle is a recreation, I think, but I like the displays inside -- descriptions of banquets, maquettes of the castle in various time periods, history of the local area. We walked along the battlements and into the tower, looking out over the water.
It was late enough that Mark was beginning to make those hungry sorts of noises -- we have to be careful to feed him very few hours or he gets cranky) and we went across the parking lot to a little shopping mall/grocery across the road. They had a little cafeteria which served pies and sandwiches and all sorts of hot dishes. Mark ordered beef pie and we spent the next hour talking with the staff and discussing our travels. They had a ton of suggestions for things we should see, and we talked for an hour or so about traveling and new experiences, and what we had seen so far. Did we like Ireland? Did we find it different?
The food was good, and the company more so. This is what I love about traveling -- spending a companionable hour with the clerks at a grocery-store cafe, discussing view of the world and plans for the future.
While we sat over coffee, the rain stopped.
Picturesque Scenics
Inch Abbey, the remains of a monastery, are nearby, so we took a couple of detours to find the site and walk around the gently crumbling ruins. Quite a bit of effort has been expended to show the layout of the monastery, and it's obvious that the foundations of piers and arches, and the outlines of some of the monastery buildings have been painstakingly rebuilt.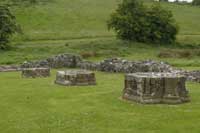 The main part of the church itself is much ruined, no roof remains, and few of the walls are complete. The arched windows that would have lit the end of the nave remain standing, but for the rest of the building, only the outlines of arches and windows remain. It's still drizzly and pretty gray, which makes waking through the site a very quiet and contemplative act. We're getting very familiar with monasteries, and -- if enough is left of the walls and layout -- can usually figure out if it's Cistercian, Augustinian, or Benedictine just by the shape of things. Hm. That definitely makes it sound like we've been looking t too many of these things!
As we drove away, we had to stop and take a picture looking back at the monastery -- wreathed in mist, sitting on a promontory over the water. It must have been a lovely place in t's heyday.
We stumbled upon Quoyle, quite literally driving past the car park entrance with me yelling "stop! Stop! Look! A Castle!". I had to look it up before we even knew where we were. (Most sites aren't labeled). This tiny tower house has massively thick walls and no external windows that we saw, just a few slits for light and many passageways inside the curtain wall. The tower sits next to a car park and row of houses.
The grayness of the day finally tired us out and it was still early afternoon by the time we headed back up the coast to our cozy retreat at the Barbican. It started to rain in earnest and we decided that a nap was in order before dinner, and fell asleep listening to the rain on the windows. There is really no place in town within walking distance to eat (actually, we never even found a pub that served food in the little town surrounding the Barbican) and so we drove to the next town and walked a little along the waterfront before slipping into a pub for an early dinner.
Freakishly Early
It's become a running joke, how early we eat dinner. Like most european countries, Ireland tends to run quite a bit later for dinner and nightlife than we're used to, and we've found ourselves crossing paths with the late lunch crowd as we come in for dinner around five o'clock or so. Mostly, everyone laughs at us, and we've taken to announcing our arrival with "hi! We're freakishly early, but are you serving dinner yet?", which usually gets us a chuckle and an empty pub to ourselves for an hour or so. Usually be the time we've unwound with a pint of Guinness and a beer, we can order off the dinner menu without a problem. It's nice, really, since we can usually talk to people during the slow time before the rest of the world turns out for dinner and drinks.
A nice dinner of chicken pie and fish, accompanied by a pint let us eavesdrop on the huge family that descended on the pub only a few minutes after we did. They were a raucous group, obviously celebrating a birthday or something, and we shamelessly listened to them discuss their holiday in Belfast and tell jokes.
We sat in front of the little fireplace and read books for awhile before going to bed. The rain started up again as we got back to the tower, so we basked in the warmth inside and relaxed. Lovely!