Travelogue, Day 26
Our destination today is Dublin, which is a fair ways from the Barbican -- but we've been making forways out into the nearby towns, so even if we end up on the main motorway into Dublin we're probably not going to miss much!
Packing up and moving out of our little private castle, went off in search of more dots on the map. It was a lovely, slow restful couple of days and we definitely needed it. I can't recommend it enough. The National Trust does a wonderful job of creating a private little retreat, and I loved every minute of it. In the future, I am going to plan MORE time at these fabulous venues -- we could have used a full week relaxing in our own place, venturing out only to see something interesting or to shop for more food. At some level, I understand people who's idea of a perfect vacation is to lay on the beach for a week -- do nothing, see nothing, just vegetate as much as possible. It could be alluring, if we could avoid the sweat, I guess. (Can you tell that beach holidays aren't on my list of 'things to do'? )
We drove through Larne (actually around Larne, then back, then through again before finding things--this is a common daily occurrence, the driving around and around someplace before we figure out where we are) and made a quick stop at Olderfleet Castle -- really just a shell of a tower house, but I'm fascinated nonetheless. I thinik Mark is just humoring me at this point, and enjoying the stunning scenery while I poke around the piles of rock. Olderfleet looks as if it has been "maintained" by repointing the stonework with modern mortar. I have no idea if that is true, but the rubble walls are traced with lime mortar.
Those Crazy Tourists
I wonder sometimes what the locals think of us. We've inquired at pubs in some towns to ask where a specific castle is, and gotten looks ranging from puzzled to concerned. Why would we be interested in those? It's just ruins! It's kind of fun to surprise people, and I have to admit a much unwarranted sense of pride that we are "off the beaten path" with regards to tourists, most of the time. It's an affectation, of course -- we want to see the same things everyone else does, too -- but I like to think that we step outside the expected experience. Humor me, it makes me feel better.
We spied Kilwaughter Castle only from across a field. I was absolutely sure that there was a way to get closer, but we couldn't't see an obvious road and Mark didn't want to spend half the day trying to get to a very visible landmark that we could see…but never actually drive next to. It was a common problem on this trip; 'It's over there!" pointing wildly at a huge and imposing pile of stone, and driving on the road that looked for all the world as if it would drop you off at the front door…and suddenly the road veers left, right, then left again and you're careening off across the countryside with the tower in your rear-view mirror, then a series of sharp curves in a hedgerow-lined lane before once again, for a brief, shining moment, the tower lies straight ahead, taunting you.
More than once, we circled entirely around something that was clearly visible and tantalizingly close. I was sure if we just parked, it had to be easier just to WALK through the intervening field to see the ruins. Not that we did this, mind you -- our "property is private" mind set is pervasive and difficult to shake. While Ireland used to share the open and liberal policies for walkers that Scotland and England observe, there have been enough issues that landholders are not as accepting of people traipsing across their lands. Most books on walking note that it is "usually ok, if you leave the path behind you in exactly the same condition you found it -- gates open or closed, stiles up or down, no litter, and no souvenirs". Seems fair, but I'm still uncomfortable climbing fences.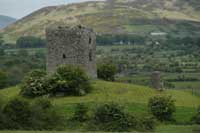 Another of the "we can see it from here!" experience was Moyry castle, nr (), which we could see on the hilltop, but couldn't get close, no matter what we did. I've seen close-up pictures of the castle (which has the same, smoothed rubble finish as Neidpath, Scotland, which is why I was hoping to see it), but we spied it from a nearby hill. Long-range zoom lenses are GOOD.
Asking for Keys? Not happening
I did scramble up the side of the road to get a few pictures though, and we moved on. Lusk Tower was on my list of things to see, simply because it is such an unusual building. The older part of the building looks like four of Irelands iconic round towers connected by walls (which is, as far as I can tell, exactly what it is) grafted on to a much later stone church. It's a lovely site on a beautiful day and we walked all 'round the building taking pictures against the perfect blue sky. We couldn't't get in, however. The church was locked, it houses the Lusk Heritage center, but there was no indication of who we should contact to gain admittance, nor any hours posted. Like many of the lesser known sites, I assume that it is open by request only; usually there is someone nearby who has keys.
It looks like a smallish parish church, with lovely windows -- but I was really interested in getting inside one of the tall round towers. The belfry of the church is incorporated between the towers, although it seems as if they are still separate structures. Every other round tower that we have found has been empty bereft of floors and (usually) roofs. The doors, which usually sit about a third of the way up the tower, merely gaping caverns that we can't even see into. It's quite disappointing.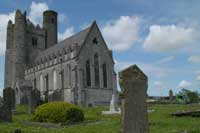 For the first time in the entire trip, we ventured onto a "major road" - the M1. It was actually quite a treat -- most of the roads we have been driving on have been B roads, with an occasional"A' road along the coast. Well, that's not actually true. I bet we've spent more miles on unclassified little farm tracks than any actually identified road. Hm. The M1 is a toll-road, for the section we were whizzing along, which always causes a lot of stress in a different country. At least we had lots of change, since it was a couple of pounds of get from point A to point B, but I'm always worried about screwing up at the toll plaza and pissing off the other drivers. Nothing like an idiot trying to figure out the automatic coin basket things (I mean, really, how hard could that be?) and holding up the line of traffic. Oh, no, that wouldn't be us. Well, not after the first toll plaza….
Nature Walks
The target of our toll-road adventure was Malahide Castle. I ostensibly have good maps, and guidebooks telling me exactly where to go (usually with red dots where the actual castles are) and we still drove around the town of Malahide twice trying to figure out where we were supposed to park. It didn't help that we ended up here late in the afternoon when the school kids were coming home on busses, and we got turned around in town on the one-way streets. But, Mark is a calm and unflappable driver (even with me in the passenger seat freaking out that we're lost!) and we eventually saw a small sign that said Malahide and dove into the car park with some relief. We realized immediately that we were nowhere near the castle -- in fact, we were almost completely opposite the actual buildings on the estate and were parked on the far side of about four dozen foot ball (soccer) fields and walking paths through the wooded parts of the estate. We knew in which general direction things were, so we decided it was a lovely afternoon for a walk.
It was, actually. We were lost for the better part of two hours, but the grounds are lovely and we'd come across a cryptic sign every so often that strongly implied that we were going in the right direction to find the castle, so we pressed on. The estate has play areas, museums, gardens, and a variety of lovely walks (which we found from the "wrong" side). We eventually did find the castle, of course. I have an excellent sense of direction! And we stumbled upon it by accident. But I'm sticking with my story!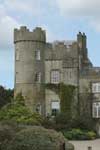 The castle is lovely, and since privately owned, tours are offered (a bit pricey) of some of the rooms. If you haven't guessed by now that I'm usually more interested in the "piles of rocks" than in the museum-pieces, so we toured on our own for a bit and then went back out to the gardens and poked our heads into the Fry Model Railroad museum. Mark was fascinated outside by a lovely antique Morgan car outside near the kitchen buildings. I think we have more pictures of the car than of the castle (no photos allowed inside). There is a dollhouse museum on the grounds, but I couldn't interest Mark in visiting.
We took about fourteen wrong turns trying to get back to the car (we ended up kitty-korner to the ball fields, I think) and spend the rest of the afternoon walking through the dense forested paths and talking to other walkers. Most of the people we met were locals who walked or jogged on the public grounds -- the tourists usually parked in the dedicated castle car park and never ventured out beyond the gardens or the cluster of buildings around the main castle before going back into Dublin. We eventually found the car, stopping to watch a soccer practice for a few minutes before gearing up for the drive.
Multi--lane roads and Black Market Showers
We've gotten very good and navigating the teensy back roads, and it is a sea change to suddenly head into the city. Not scary, not really, but I can certainly see that Mark tenses up while driving, and I get stressed trying to keep up with the navigation in the city when Id don't necessarily have detailed maps. The only time we end up snapping at each other is when we're tying to find the hotel or a specific place in the city. Any city. I clearly recall serious snarking in Inverness in Scotland almost ten years ago when we went the wrong way on the main road because I yelled "TURN!" and he did. But hey, if that's the worst we have in a month-long trip, well, I can't complain much.
We opted for an actual hotel in Dublin, despite the hundreds of B&Bs and guesthouses that are listed in the guidebooks. In retrospect, I'm not sure why, except maybe to end the trip with a full-service hotel with blasting showers and possible room service. Guesthouses tend to be on the outskirts of the city, though, and we had earlier decided that we weren't going to try to drive in Dublin. We'd get there, park the car, and use local transportation while in the city. Much easier than trying to find parking in a dense, not particularly car-friendly city the size of Dublin. So I guess that was the deciding factor: something near the city center, with parking (free or not) that we could use as a base of operations for a few days. The hotel we found (a Holiday Inn) was near the old railway station, within walking distance of the Temple Bar area, and had a parking ramp near the hotel that would store the car for us for a hefty fee.
I know, I know. If you've read any of my travel-blogs, you know that we avoid "standard hotels" like the plague. Most of the big-name hotels are the same the world over and if you pick a Holiday Inn or a Best Western you end up in a generic, American-style hotel with the character of a bowl of wheatina. This is not entirely true when you find hotels in old cities in Europe, so I am going to have to adjust my rule to be "no big-box standard hotels anywhere", or something like that. Holiday Inns and Westins, and Hiltons in some cities are charming older buildings,renovated as hotels. We stayed in a fabulous Best Western in Paris, and the Holiday Inn here, while fairly generic, was built in an old warehouse. The rooms are pretty plain-jane -- bed, tv, bathroom, like every other business hotel in the world -- but the lobby and public areas were charming. I have to admit loving the huge, uber-force Black Market Romanian Shower Heads (Seinfield reference, anyone?), so color me a hypocrite, I guess, but I think it's the first time I got all the soap out of my hair in about two weeks.
Of course, finding this lovely hotel near the city center proved a bit more daunting than we could have expected -- parking was entirely unlabeled and the street changed names not once, but twice, as we tried to find things. We eventually could see the front of the hotel, and thank the stars we had a cell phone. I got the hotel clerk on the phone and he graciously walked us through driving around the block (or three) until we could get to the parking entrance--"it will be on the left, of course, the fourth black door after the parking prohibited sign, it's down a little from the road and there's a sign…"--and they could buzz us in. Three tries (that clerk had the patience of a saint) and we were parked, unloaded, and standing at the front desk. Ha! Master Navigator, at your service!
One strange note about the hotel -- the electric is not on (lights, outlets, AC) unless the hotel key-card is in the little keypad by the door. Confused the snot out of us, I tell you!
Temple Bar Rocks!
We stuck around for all of ten minutes before picking up a city map at the desk and heading off in search of food. We had a lovely little fold-out book of maps that lists major sites and recommendations for each quarter of the city, and we walked the twelve blocks or so to the city center and sought out a little Italian antipasto bar that got special mention. We were ready for a change from the meat-and-potatoes-heavy menus at the pubs we'd been eating at, so we were looking forward to something different. It was a tiny place packed with little bistro tables and open to the street and it was an absolute madhouse. We apologized for not making a reservation, but asked if they could fit us in, since we'd love to have dinner. The owner of the restaurant wanted to know how we had discovered them, and we shared out little map book, and he offered us a glass of wine while we waited for a table .I didn't realize it was just antipasto and plates of salame, but we ordered a starter plate, had a lovely glass of wine, and ate picked vegetables, fresh bread, and four kinds of salami and fresh hams while sitting outside on the open sidewalk watching the oh-so-fashionable arrivals at the club across the street. It was lovely and serene evening and definitely much needed.
A second glass of wine mellowed both of us out, after the 'find the hotel' game, and we decided to walk around a bit, at least briefly, before crashing for the evening. Considering that it's still light outside (boy, late spring is lovely at this latitude -- it stays light out until after ten, at least), we took a leisurely walk for a couple of blocks out of our way to the hotel. Dublin is a lovely city -- I mean, really. We're in the outskirts of the city a bit, so renovation nd building is rampant all over the city. The main railway station is almost entirely gutted and covered with scaffolding, but walk but a block or two off the main road and you're suddenly looking at Georgian door fronts and walled-in courtyards fronting these gorgeous stone houses. Walk a block or two in the other direction, and you're in a street full of blacked-out windows hiding strip bars and some rather unsavory sorts of shop fronts interspersed with narrow grimy little pubs fronted by smoking patrons and loud music. Whatever else Dublin may be, it is alive. You can't help but be sucked into the vibrancy of a city that is constantly building, constantly changing, constantly moving.
I slept like the dead in generic hotel sheets with a generic hotel view.
It was good.