Travelogue, Day 28
Our last day in Ireland. It certainly doesn't seem like it's been a month -- more like a few days, really. But like most of our vacations, by the time we get to week four, we're ready for some slow days, lots of sleep, and our own beds. Our vacations tend to be high-energy and go-go-go….Mark laughs that it's the only time that I can be relied upon to be awake and perky before 8am--on vacation. Normally, I'm a night-owl and a particularly noxious troll before I've woken up. But take me on vacation and I'm up with the sun (which is a trick in the UK in the Spring, since it shows up at 4am!) and raring to go. And, I'm usually the one who wants to head back out after dinner and look for more ruins (again, a trick in the UK in the Spring, since it's twilight-ish until midnight or later). I'm usually overridden, since Mark is definitely not a night-owl and seems to have some misguided notion that vacation is a time to relax. Silly man!
I finished early last night -- just too much walking for me, finally. Mark wanted to go back down to the pubs, but I just couldn't do it. Damn, it sucks getting old.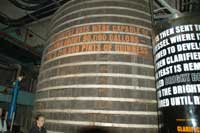 We decided to just leave the car in the parking garage (especially after our issues with getting it into the garage). Our hotel is a couple of blocks away from the city center, so walking to see things is an eight block hike or more. A week ago, I'd be up to it. Today? I'm thinking that someone carrying me in a litter would be a good plan! Luckily, the great tourist board in Dublin has a few different options for those of us hitting the end of our stamina. There are two different "bus tours" of Dublin which are of more use as cheap round-trip transportation than as an actual sightseeing tours -- they make a loop of the major sites in Dublin and you can jump on and jump off any bus for 24 hours. There's often rather amusing commentary on the sights, too. Worth every penny, if you ask me. We bought a ticket from the Red Bus (which you can purchase from the driver when you get on the bus or sometimes from the hotel clerk) and headed off to see the Guinness Storehouse.
A Drop of the Black Stuff
You can't miss the Guinness tour if you have any time in Dublin at all. Guinness is almost synonymous with Ireland -- a pint of the dark stuff at the end of the day is a quintessentially Irish perk. I'm not much of a Guinness fan, myself, although Mark has certainly developed a taste for the stuff. Guinness has been brewed in Dublin at the St. James Gate brewery for 250 years (since 1759), and while the modern brewery dominates the skyline nearby, it's the old Guinness Storehouse that has been completely refurbished as a tourist mecca. Neon, pop music, the full-on experience (including the long lines and relentless marketing, of course). It's touristy and kitschy and fun, if a bit overwhelming, and there's a free pint of the stuff at the end! The lines to get in can be really long, so try to show up early.
Each floor has exhibits and audio-visual information about how Guinness is made, bottled, shipped, and served. There is a huge display of advertising for the last century or so, mock-ups of the barrell-making process, and finally on the top floor, restaurants and shops. It's all very commercial, but the free pint included in the tour price usually lures people up to the top floor for a bit of food. The restaurant is quite good (there are some counters for take-away food, as well) and the view out the enormous old windows is spectacular. If we had any doubts that Dublin was a growing, thriving city, counting the building cranes looming over the skyline would have convinced us that things were booming. I offered Mark my freebie coupon for a pint, but one was enough. I took my little plastic bubble with a drop of Guinness in it home with me.
And, like many venues designed for tourists, the end of the tour shoots you out in the gift shop -- where, in a frenzy of panicked gift-buying, we rifled through the t-shirts and Guinness-branded stuff for things to bring home. We suck at bringing home trinkets and gifts for people when we travel. Some people have a knack for finding things from every place they visit, but we never seem to buy anything when we travel. I know friends who have to bring home extra suitcases full of stuff. Other than the miraculous expansion of dirty laundry (How does that happen, anyway?), we rarely have more stuff to bring home than we left with. A few postcards and books, of course, but travel chocks? We need remedial shopping help.
Bigger on the inside,really.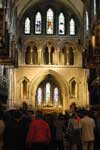 After lunch, we re boarded the Red Bus and jumped off again at St. Patrick's Cathedral. We'd been to Christchurch yesterday, and admired the hugeness of it all; St. Patrick's is really a stunning building. I have a much different perspective than Mark does -- he's seen most of the great Cathedrals in Europe, while I've only seen Notre Dame in Paris -- so I am always a bit stunned at the scale of things. And the clutter. I have some imaginary impression of churches as being these clean-lined, austere sorts of places with lovely arched vaults and pillars. That's rarely the reality, of course. St. Patrick's has a plethora of tombs and statues and plaques and flags and memorabilia. Some of the memorials are these overwrought, baroque monstrosities of the benefactor as an avenging angel or pious churchman, all covered in gilt and enamel and halos. War memorials in the side chapels have flags and statuary. It's interesting, but more like a museum. Make sure to pick up the little guide sheet, so you can identify all the different memorials and interesting statuary.
We decided to walk a bit, down around the museum and some of the lovely buildings, although we eventually picked up the Red Bus again and walked through the imposing "civic" architecture -- post office, museum, government offices, that sort of thing. The real gems, though, are the Georgian squares that dot the city. Row upon row of Georgian row houses around a central park square. The doors -- arched and windowed and painted -- are a treat.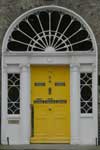 Marrion Square is one of the best known Georgian areas of the city, and there is a fabulous, overgrown fenced park in the center of the square which is quiet and green and a far cry from the bustling streets. In the park is a famous sculpture of Oscar Wilde -- named, as many of the statues in Dublin are, with a sarcastic nickname. In this case, it's the Queer with the Leer. The famous statue of Molly Malone is the Tart with the Cart, and other, ruder things
The walk back from the bus stop to the hotel was only a few blocks, but I was ready to drop by the end of the day: fell into bed and barely roused enough to finish packing for our departure tomorrow.
Tomorrow, we go home.