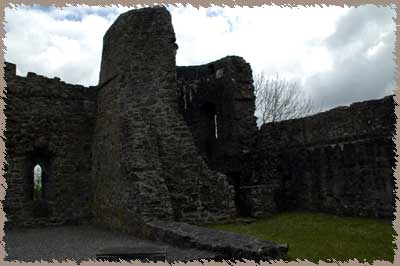 the much-damaged round watchtower

The castle is surrounded by a bawn wall with three towers (three round and one rectangular). A wet moat, fed by the river Clareen, protected the east side of the castle. The round tower just to the right of the entrance flanked a seperate banquet hall. Originally, public functions would have been held in the main hall of the tower house (the second floor), but many castles also built a later banquetting hall outside of the tower, with more windows, and easier access for servants and food. Other than a few stone foundations, nothing remains of any other building in the castle grounds except the tower.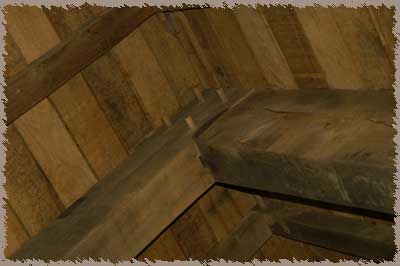 hand-adzed and pegged joists in the attack (renovate)
The top floor of the castle is attic space, whicn may have been used as a lookout post, since it gave panoramic views of the town. THe restoration work on the castle is quite visible here -- the roof and joists were hand-hewn and pegged together, like the original likely was. The restoration work by Duchas (started in 1990) will allow the castle to be used as a museum and exhibition space.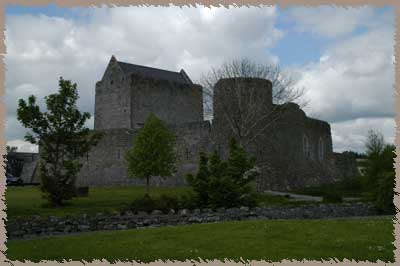 the castle from the south, over the river, showing the outer bawn wall
The keep is roughly 16.5m x 10.5m, and the base is battered (that is, sloped outwards to provide stability and protection for the walls. About half of the outer bawn wall remains. The town was sacked in 1574 and 1577, and after a final attack in 1506 by Hugh O'Donnell, the castle was left to ruin.