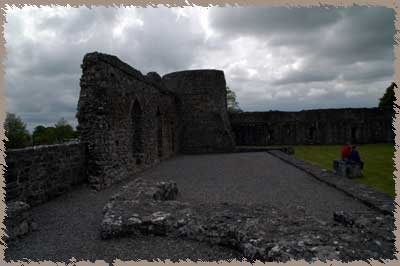 parts of the bawn wall and round watchtower remains

The castle is built very close to the walls of the town. Athenry is one of the many medieval walled towns in Ireland, and is one of the largest and best preserved examples of a fortified walled town. THe town was established about the same time as the castle, the result of the norman invasion of Ireland at the hands of Richard de Burgo.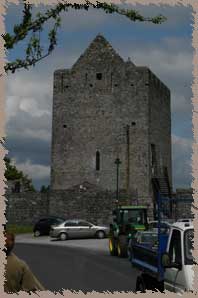 The castle lies on the norhteast end of town. Nearby is a ruined friary, and a long expanse of the original city walls. The remains are rarely full height, but they are often punctuated with round watch towers. The north gate of the town lies just a short walk from the tower -- in the middle of the main street through Athenry. FIve flanking towers also remain in the walls and can be seen of the walls, which were begun in 1211.
The castle is open to visitors, and a guided tour is available. There is an admission charge.