The tower is six storys, but it's a rather small 12.5m x 8.6m. Iti s one of Connaught's tallest tower houses -- and there are over 200 tower houses in Galway alone.There are box-machiolations on each corner, and the walls contain spiral stairs, rooms, and passageways. The upper letters of the castle have mullioned windows. LIke other tower houses, this is a fortified residence, not a purely military installation. It is, however, well built for defense,w itht he river along one wall, and galleries above the walls allow an unobstructed view around the tower, as well as allowing stones to be dropped on attackers from the upper levels. Bartizans halfway up the walls contain chambers and windows.
Inside the tower, the ground floor was used for storage and would have been accessed from inside. The vaults contained small rooms (more like closets, if you ask me) where servants would sleep. Upper floors have large windows and served as living space for the family. There is a "secret room" -- more likely a prison cell -- that is only accessible through a trapdoor inthe latrine. Not the most pleasant of teeny, tiny rooms.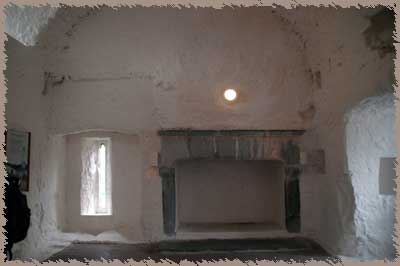 inside the main hall, which is surprisingly bright.
On the western side of the bawn wall are the very scant remains of a banquetting hall, with lovely carved windows in the inner wall. This was a long stone building, and was probably roofed with that. It was built on a natural stone bridge over the river. The windows are finely decorated, some with grapes which suggests that wine was available for banquets. It is likely that it was imported from Spain or France through the trading port of Galway. Most of the hall has fallen into the river -- and a story has it that there was a trapdoor in the floor were the lord would have people who displeased him dumped.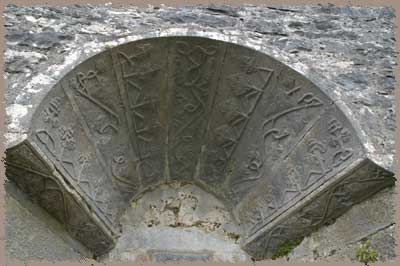 ornately carved windows in the Great Hall, now ruined