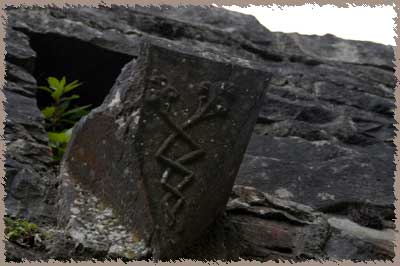 decorated corbels in the great hall

Aghnanure was main stronghold of the 16th century O Flahery clan, and is a good example of how a chieftain might have lived in the time before the english Plantation of Ireland. The castle was taken from the chief of the O Flahery clan and turned over to Queen Elizabeth. They were eventually given to a minor sept leader, Bryan O'Flahery, who was sympathetic for the English, in 1572. He duly betrayed his kinsmen for the lands and castle. He borrowed money to buy the land from the crown, but was eventually foreclosed on. It remained occupied by O Flahertys until the 18th century. The castle went into state care in 1952, and restored in 1963.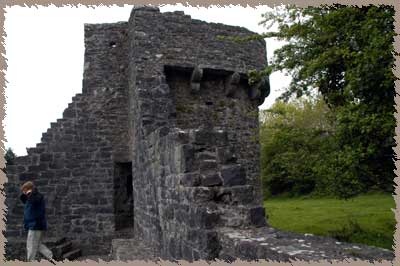 one of the five outer-bawn watchtowers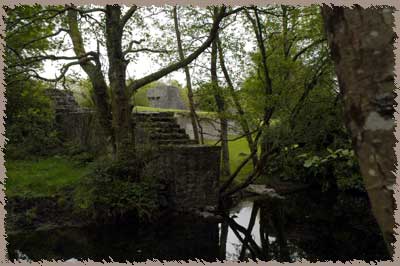 view from the river Dinneen to the outer walls of the castle
The name of the castle Achadh na n-Iubhar, which means 'Field of Yews', is hard to imagine. Only one yew tree remains, on the path into the castle. The woods around the river do have more yew trees, and in the 19th century, clan member planted trees on the grounds. There are, however, tons of bats. At least three species of bats use the castle as a roosting and nesting place. The bats are rarely seen during the day. They are endagered species, however, and protected by both Irish and EU law.