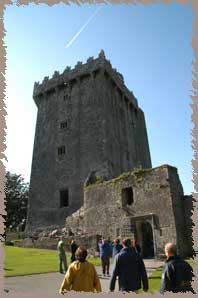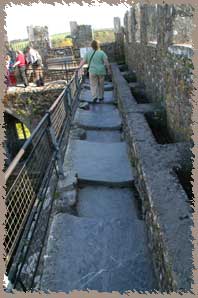 following the tourist trail / the lintel stones and wall walk on top ofthe castle

The oldest part of the tower is the lower wing on the north. The bartizan dates to 1590 on the SW, but this was at one time a fully-contained tower, dating from the 15th century. The little tower had four rooms and a spiral stair, with the lowest level filled in and a kitchen in the converted fourth storey. Mullioned windows in the tower date from the same period. A range of buildings was addedin the 18th century along the terrace and over the lower stories of an earlier turret. The tower house is a ruin now, with some rooms stil accessible, but most floors are gone and the roof is a recent addition. There are dozens of staircases leading through the rooms and the mural passages in the thick walls - tourists are routed specifically through the castle to avoid having to pass people on the narrow staircases as they climb to the roof to see the stone and back down again.
It can be a tough climb, if you're not careful. Several years ago, my sister went to Ireland on a trip with our stepmother and her sister. My sister has CP and is not the most mobile or bendy of people, but she managed to get all the way up to the roof and all the way back down. I have no idea how! We kept commenting to each other as he climbed the next stair, "How in the hell did Jenna do this? Was there a winch?"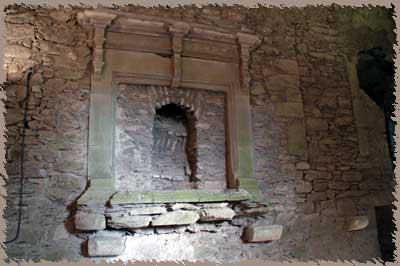 a highly decorated fireplace on the upper storey
I didn't kiss the Stone - I really don't bend that way, levering myself out over the wall and bending backwards to kiss the bottom of it. Mark did, though, and I got a few pictures. There are grates and bars to ensure that no one falls though, and two burly guys to hold you down and make sure you dont slip. But it's a ways up there, and the view down over the walls is enough to induce vertigo if you are slightly inclined.
The existing bawn is enormous - 200m x 70m, and would have enclosed all the secondary buildings. it would have been too big to defendt, however, and there is some evidence that it was divided into smaller sections.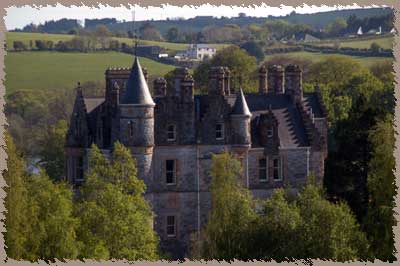 blarney house, from the castle
The caves under the castle are partialy open and the path along the cliff edge is a nice walk (and not often taken by many of the tourists, so it's not crowded). The Rock Close and gardens are also open to the public at Blarney House, which can be seen from the tower walls. When we visited, the house was closed for some renovations and we couldn't go in.