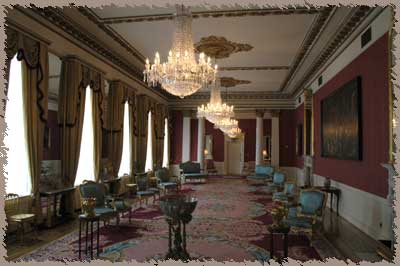 one of the gaudy reception rooms

There were originally four towers, only one really remains. There is a stretch of retored town wall down near St. Audoen's church, with the one remaining city gate. The stump of the Powder Tower remains, leading down to the LIffey.
The castle has not alwasy been popular with the inhabitants of Dublin, and was the seat of power for the English for seven centuries. Irishmen who were too supportive of the English were called 'Castle Catholics' Not until 1922 did it return to Irish hands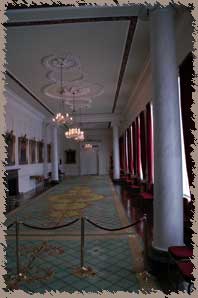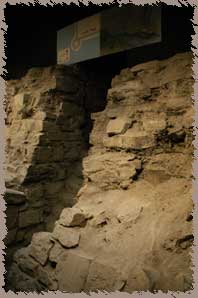 the long portrait room / remains of the viking settlement and stone foundations
The undercroft are beneath the treasuring building and show the huge, splayed bases of the corner towers of the original fortress. The stone ramparts are part of the Viking settlements of Dublin, adn are perhaps the oldest remains -- except for the viking settlement on Wood Quay, which was plowed under for a business park that is derisively called 'The Bunker'. It is likely that the largest archeaological site for Viking settlement, perhaps the most imporant in Europe, is ruined forever.

faint outlines of the different filled-in arches int he base of the tower -- and the river Poddle!