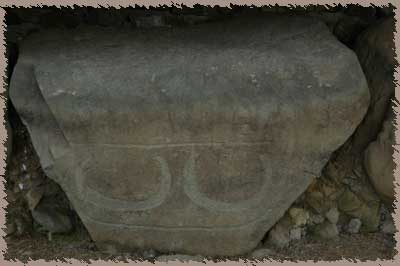 one of the decorated kerbstones around the base of the main mound
The mound has been excavated several times, revealing the carved staones around the base and the arrangement of stones at the entrance. The first passageway into the tomb was found in 1967 -- the carves stones found here make up roughly a quarter of the Neolithic art found in Europe. Someof the kerbstones are carved with fantastical patterns and lines.

The site has been used since neolithic times, even being used as a motte for a Norman castle. In the late Iron age, the hill was fortified and became a site for habitation. Ditches were built as protection and housing was added to the site. The view from the top over the rest of the Boyne valley is spectacular.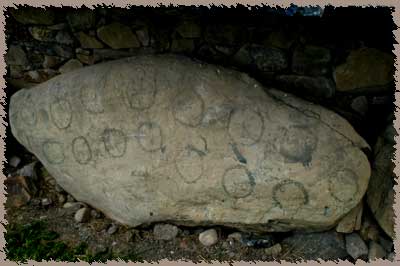 a common pattern on the stones -- circles and arcs
THe primary archeologist at the site, George Eogan, has determined that there were at least 10 different phases of buildinga and activity at the site from the initial mound in neolithic time. There has been habitation here for six millenia.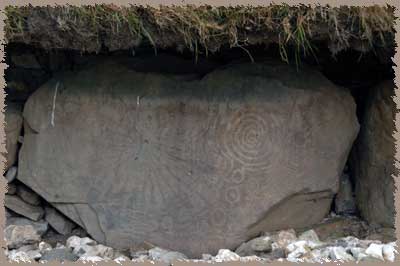 a complex pattern -- possibly a solar or lunar calendar?
Page
[ 1 ] [ 2 ] [ 3 ]
[ 4 ] [ 5 ]