May 05
Cold and blustery today with a steel-colored sea and leaden sky merging at the horizon. We looked out over the gray world over breakfast and contemplated going back to bed for a few hours. But, the manic pace of our vacation is already well-entrenched. Rain, snow, sun…doesn't matter; we're off into the world fortified by bacon and eggs and coffee.
Our first taste of "weather'
If you want an entirely sunny vacation, you need to spent it somewhere other than Scotland (well, anywhere in the UK), I contend. We have had glorious weather in our trips to Scotland and Ireland--and this trip turned out absolutely perfect, by the way--but you have to plan ahead for what is usually a rainy and damp spring. It rains 40+ inches a year in Scotland and while there are a fair share of glorious, sunny days in May, rain is also on the menu often enough to warrant some serious planning. Bring an extra pair of shoes: there is nothing worse than squidging around in damp shoes after walking through puddles and mud. Having a pair of dry socks and shoes is critical. Bring a good rain jacket: it's humid enough that you'll want to avoid a plastic-y rain poncho or cheap rain coat, you need whatever you wear to breath. It's not necessary to splurge on Gore-Tex or one of the spiffy new fabrics, but do make sure that you find something that doesn't make you feel like you're wearing a plastic bag. Make sure it has a good hood (that doesn't drip water down your neck) and I'd strongly recommend something a bit longer - nothing like keeping your shirt dry and letting the seat of your pants get soaked!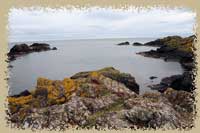 Bundling up against the not-yet-arrived rain and already-gusting winds, we thanked our hosts and drove just half a mile up the coast to St. Abbs Head. The bird sanctuary and nature reserve here are maintained by the National Trust, and feature a number of nature walks and coastal paths that highlight the seabirds and marshland here on the coast. It's quite spectacular.
We took the "short walk" (don't be fooled! Short is a relative term!) around the point for some fabulous cliff views. Adventure Girl arrived, and we trekked around the main part of the cliffs and up the enormous hills and around about forty sheep fields.
Hm. Perhaps I should introduce Adventure Girl.
TA-DA! Adventure Girl Arrives!
I am a mushroom. I write code for a living and I view participation in sports and other outdoor activities with horror and dismay. Outside exists so we can have Inside, I contend. I don't particular like Nature, beyond an appreciation for the beauty of it. But -- take me on vacation (and give me a good pair of walking shoes) and my computer-sitting butt suddenly becomes Adventure Girl! Striding over hill and dale, climbing fences and slogging through marshes! Leaping tall buildings! For some perverse reason, I'll walk miles and miles in the screeching wind and pouring rain to see a pile of rocks that I have marked on the map. I'll set off into the soggy fields without being able to see the castle that I know it out there, and I'll continue walking half an hour past when we should have found it. Adventure Girl loves the wind and the briskness of heading off into the gale and is not stopped by mere weather! Adventure Girl puts on her rain coat, checks the laces on her shoes, and strides off confidently into the wilderness.
Mark finds this all absolutely hysterical, of course. I wouldn't go on a nature walk at home on a bet. I certainly wouldn't trek off for several (many!) miles on one. Something about the brisk sea air, perhaps. At any rate, Mark is sure that Adventure Girl needs a Theme Song (I'm working on it) and is unfailingly encouraging about my suggestions to set off on a meandering walk to look for things. He's even pretty understanding when I start to complain that "everything is uphill. Both ways!" and always waits while I catch my breath after scrambling up somewhere.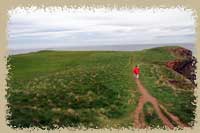 Lovely views along the coast, though - steep cliffs plunge down to the sea and nesting seabirds cover the rock ledges. There is no fence or anything, just a few signs that the drop off is steep. We started off from the parking area with a French couple -- she trudging ahead purposefully, hood up and scarf around her face, he toting an enormous tripod and camera, and an extra bag of camera gear. He would stop every so often to laboriously set up the camera and she would keep on, stopping just before she went out of sight, to sit and wait for him. It was quite funny. It was obvious that she was viewing this as a hike with a few nice bits of scenery and that he was viewing it as a panoramic vista that needed to be appreciated at length. It made me very glad that Mark and I have the same idea of 'vacation pace' (well, other than the fact that I have to struggle to keep up with Mark's longer stride, or he has to slow down considerably to let me catch up!)
The path follows the edge of one of the larger peninsulas closely, and there are some great views down the coast. Some of the hillocks have a weird texture - as if they have mesh draped over them, clumps of grass "sagging" between. I think they are actually the same type of grass/moss as a blanket bog, and the tuffets of grass are sliding across the rocks as the soil is saturated. We probably could have tried to walk out on them but they seemed pretty precarious. I usually have to dissuade Mark from clambering out over rocks and cliffs, but it was windy and blustery enough that even he didn't want to chance it.
The path turns inland and through a couple of rather deep vales before fetching up against a small loch. The "long path" circles the whole lake, the shorter path skirts along the southern edge and then back to the main road via a couple of sheep-gates and pastures. We finally descended back to the parking lot on the narrow winding row - walking straight down the middle, of course, since we couldn't see a car for miles and miles. It was a nice walk, actually, despite being about four times longer than we thought it would be, and by the time we reached the car it had warmed up, stopped being so windy, and we even caught a tiny glimpse of sun!
Our first English castles. Woah.
Our ultimate goal today is to reach the first site on Hadrian's Wall -- plans which did not go smoothly at all today. We always underestimate how long it will take to get places, and never account for the distractions of "something cool!" that we want to stop and see. We don't' really have a schedule, of course, so it's all an academic exercise anyway, but I know it frustrates Mark when we don't "make progress" some days. I don't usually mind as much, since it is my particular foible to track down every castle I can see. We didn't pay attention to the tide tables and missed the opening of the causeway to Lindesfarne Priory (at this time of year, there are only a couple of hours a day where it can be safely reached form the mainland). We paused for a few minutes to check the maps and then drove to Bamburgh Castle.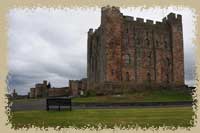 Wow. This thing is HUGE. It's much renovated into a comfortable mansion house, but the stone walls and towers of the donjon top a rocky outcrop over looking the sea and it's as 'castle-y' as any castle I've seen. If this is the sort of castle I could expect in England, well, we are definitely going to plan a trip there. We only swooped down into Northumberland to see The Wall, and I have no guides or maps for England on this trip. At any rate, it began to rain in earnest as we walked along the seawall and took pictures of the castle, and we escaped inside to have lunch in the café (in the old castle stables).
The main hall inside has a ceiling and wall paneling of "golden teak", which glows a rich honey color in the light of the huge windows. The castle was rebuilt/repurposed as a school and as a meeting hall during its long history. The original tower house is dwarfed by the mansion and associated buildings.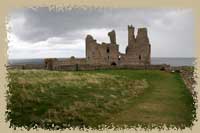 Another of the castles strongly suggested by the couple at Greenowe was Dunsanburgh castle, further on down the coast. We followed the GPS, dutifully parked in the remote 'visitors' lot on the edge of town and walked down the cobbled street to the Heritage Sign (the castle is maintained by English Heritage, the sister organization of National Trust/Historic Scotland, and offers discounts to members). We didn't realize that the castle itself was another couple of miles down the coast, thought the fields, but decided to follow the sparse crowd and see. It was hella windy--to the point that it was hard to talk to each other--and the walk was easy enough, over flat ground, but very long. The castle is pretty cool - the gatehouse is an enormous drum-towered affair, but the wind picked up enough that it was a difficult visit. We spent most of our time ducking behind the stone walls to get out of the howling gale. In retrospect, we should have trekked onward to Alnwick castle instead of spending 2 1/2 hours walking out to the castle here, with little to see and the freaking wind! As we zoomed past, we only got a picture of Alnwick (pronounced 'ahn-ick', how they get that I have no idea) and I'm hoping to convince Mark to head back that direction tomorrow.
Farm Fresh eggs and good company
We picked up a copy of 'Farm Stays in the UK' at our last B&B, and it proved very useful for finding a place to stay tonight. We talked to the hostess and assured her we would be in time for dinner (after being told it was pork chops, lima beans, and cabbage). This is a large working farm - pigs, chickens, sheep -- and the most comfortable place we've stayed so far.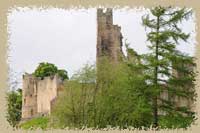 I made a quick detour to see Prudhoe Castle (which was closed, just my luck!) and Mark got very grumpy about wasting time. We made it to the B&B in plenty of time to have dinner with the other couple staying - he was an anesthesiologist from John Hopkins, in the UK to give a lecture and we had a lovely discussion about 'walking the wall', which they have done now for two days.
There are priories on either end of Hadrian's Wall (I have snagged the glossy full-color book from the B&B library to see how we should attack our itinerary tomorrow), but I think we aren't going to have time to see them. We have to be in Craigallache tomorrow by 7pm. Where did the time go?

One of the funnier moments in the car today, though, was as we passed through the town of Alnwick, looping our way through to the B&B, and passed a teeny little car on the main road. It was painted turquoise and pink, and as we zoomed past, I was absolutely, completely sure that the nameplate on the car was...
"Ford Piñata."