May 25
Yea for sun and blue skies! I think we're running about 4:1 for sunny days to drizzly days. Possibly 5:1 if you only count the days where it's pouring buckets. No complaints!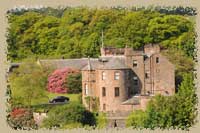 We started out on a loop today to see a few castles and each of them was at a distance and while we tried to get the GPS to route us there, no luck. We mad e a loop around and saw Banshaw, Woodhouse, and Robgill from a ways off -- Banshaw and Robgill are large tower houses with attached mansions. Robgill is particularly gorgeous with huge gardens and terraced plantings…it's also for sale for a cool 2 million pounds. Damn. It's been 'sensitively restored" as a resident with six bedroom and bathrooms. We might have a problem coming up with 4 million bucks. Damn. Double damn. It would be PERFECT! Of course, I didn't know at the time that it was for sale, or we'd have had an interesting day, I think.
How the postman finds everyone
We drove through a forestry operation to find an unlabeled dot on the map, just enjoying the farmland and zipping along the teensy lanes between the farms. We stopped trying to drive down when the road got very rutted and the warning signs for oncoming trucks got a bit too numerous, but Mark napped in the car while I walked down for some pictures of the neat tower house at the end of the road. As I wandered down, I ran into a man working on the drainage in a pasture (up to his knees in mud). He laughed when I asked dif he was the owner of the tower, but I did discover that he was the POSTMAN for this area. He was amused that we were driving around the primary loop for his mail delivery route, and allowed that it was awfully pretty.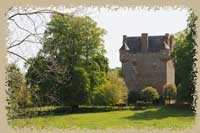 It's one o the perennial questions we have -- in this country, street names and street numbers are a bit less common that we're used to. Ok, that's an understatement -- most towns do not have any house numbers and the streets change labels three or four times. Some houses are known by a name, or more often, simply by the people who live there. 'Johnson's house", "The old Reedy place". I asked him how on earth they trained new postmen and what happened when he retired. He laughed, and said they just warn people that their mail might be delayed while the "new guy" figures out where everyone is. It's more of an apprenticeship program than a job, he said. He just "knows" where everyone is. Now, the mapping software we have is very accurate based on the postal codes - nearly every house that doesn't have a street name/number is identified by a unique postal code, so perhaps it's not as hard as it might be. Considering that they have dropped and renamed the counties and regions several times since 1974, it can't be any harder.
He told me that the tower (Spiddal Tower) is a luxuriously renovated tower house - the guy who owns is a technical entrepreneur, and has redone the whole interior with all the modern conveniences. The whole top floor is an office, he says. He suggested that I go down and knock if I wanted to look inside, but somehow the idea of bothering a multi-millionaire on his weekend off didn't sound like a good idea. It was a nice conversation, though.
Fabulous gardens abound
Another tower house - also looking well inhabited -- just down the road is Lockhouse, and we paused only a moment before going to Drumlanrig Castle - a n enormous pepper-potted mansion house (with the core of a medieval castle) to walk in the gardens, which are world-renowned. There are a dozen walks around the grounds to se the various gardens -- knot gardens, rose gardens, maze, espaliers. It's really quite marvelous. Once, the land as far as you could see, belonged to the family here. They've sold off a lot of the land, but the grounds of the castle are still massive. We walked down through the garden center and up along the back of the castle through the terraced gardens. They almost don't look real - they're more like green-tinged cake decorations all lines up and perfectly edged. A couple of kids were having a blast rolling down the very steep sides of the terrace and racing back up to do it again.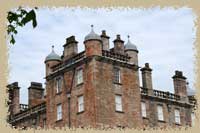 In the rose garden, they have huge evergreen (spruce?) topiary shaped like pavilion tents (I think that's the intent, they look like giant baby bottles to me) and Mark made me to the boing! boing! Pictures again, leaning on the shrubs. It is kind of fun! I asked the two gardeners there how many people it took to maintain the gardens and all the topiary -- a team of four. Plus a half-time guy in the summer to edge and trim the lawns. Four? There are ACRES of gardens here. They are definitely not lacking for work.
The castle is a bit overwrought for my tastes -- red sandstone with dozens of chimneys and turrets and zinc-colored domes, all covered with frippery in stone, lots of arches and decorative bits and balusters and spires. Inside, it is a spectacular display of antiques and family heirlooms (although we did not go inside, spending our time in stead in the gardens.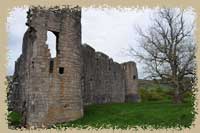 On a finger of land jutting in a loch, Morton Castle is another small tower with a small bailey. I really liked Morton; it as a short walk out to the loch, and everything is silent and peaceful and vivid green. The land here is wildly rolling hills - we assume that the loch fills in a series of glacial murrains. The place looks like a green blanket thrown over a field full of golf balls (ok, weird imagery, but that's really what I looks like, and the manicured green reminded me of a golf course. Sue me). There was someone in a small boat out in the loch, fishing. It's a secluded place, far enough from the road that it doesn't seem connected to anything.
Climbing back to 'altitude'
We've spent quite a bit of time at sea level, so it was worth a quick side trip to drive to Wanlockhead, which is the "highest village in Scotland" (at 1531 feet). There are higher spots in Scotland of course (the Bens and the rugged mountains up north). Wanlockhead is also the
home to a Beam Engine, which gets much mention in the guidebooks and is a Historic Scotland-maintained site. There isn't much at the site except a restored tripod and pump arm, but we poked around the mine site for a bit and tracked the rails and rusted carts. I didn't get much out of it, but Mark loves figuring out how these things work. He also wanted to see the Biggar Gas Works - and when we arrived it was closed. It was doubly frustrating that earlier in the day the had a "public burn" where they put things through their paces. Their hours are variable and if we had known, we'd have run here to see it! The placards on the outside of the fence don't really explain thing very well.
A hidden gem
One of the surprising finds today was Drochil Castle. The book noted that it was a massive ruin, and we drove up to the Drochil B&B to see the castle. We could see the top of the tower behind the house, between some of the farm buildings so I knocked and asked permission to go back an look at the castle. The owner of the B&B was a bit bemused by the request, and warned us that the ruin was dangerous, but said that it was fine if we wanted to go and take a look. One of her dogs -- a little yappy Jack Russell -- accompanied us to chase the birds and bunnies.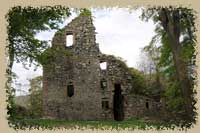 Drochil is a really fascinating castle - more of a manor house an in a style that is quite unique. Two tall blocks of rooms on each side of a massive central corridor. The floors are all gone, of course, but if you walk into the main entrance, you end up in a long corridor through the cellars, which was obviously barrel vaulted the whole length of the castle - in fact, it may have been an open passageway through the castle foundation, depending on whether there was a gate on either end. Above that, it's clear that the central corridor remained open between the two 'sides' of the castle. We poked around in the kitchen (absolutely ENORMOUS fireplace and the various room son the first floor, but we didn't try to climb either of the two staircases (both full of rubble). Outside, the squinches are elaborately decorated and there are oval gun-loops on the corner towers. Most of the castle has collapsed into the cellars, which are filled with beams and stones, but it's fascinating. I think this is more like the Earl's Palace in Kirkwall, Orkney (a renaissance house) than a fortified tower. Defensive, sure, but much more focused on comfort and elegance than fortifications. Very cool.
Another farmhouse stay tonight (although I didn't write down the name of the farm!). We had the family room again (apparently calling late often gets you the 'last' room, which contains a bed and often a set of bunk beds or another single bed. Very comfortable. I really love the farmhouse B&Bs. Big rooms, friendly people, neat buildings. This farm is a very old, stone farmhouse -- thick walls and small windows and no cell phone service inside, of course.
And, once again the GPS tried to get us stuck in the mud. According to its route, we headed down a farm path behind the fields that almost instantly became a rocky, rutted adventure path. This time, we did actually back out of the road and stay on the pavement, trusting that it would curve around an get us where we needed to go. We were right, of course - it seems when you are diagonally across a grid from your target, the GPS seems to preferentially pick left-handed turns (which makes sense, I guess) but it doesn't seem to take into account the 'type' of road. Staying on the pavement drove us right around the field, to the narrow road with the B&B sign and into the farmyard without any giant mud-filled potholes or broken axles. Woot!