Drumlanrig Castle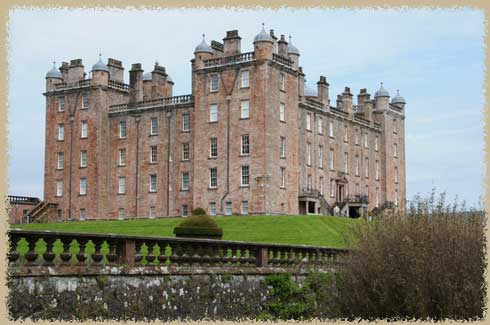 the castle is quite..symmetrical
17th century country house, then more
This is not a medieval castle, which is my primary interest, but the massive mansion here at Drumlanrig, set in stunning gardens, is deifnitely worth a visit.
Oh, there are remains of a 14th century tower house buried somewhere in the huge building -- cellars, mostly -- but the current castle is the third incarnation of a castle on the site, and is a huge four-corner-towered courtyard castle. Four ranges of buildings around an inner courtyard give the impression of a solid, square building.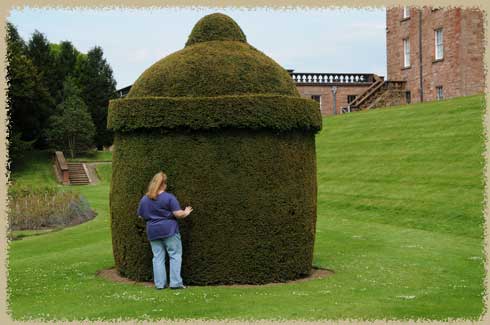 enormous topiary in the gardens
Ownership
The original castle here was built by the Douglases after 1357, and sacked by the English in 1549 and destroyed in 1575. It was restored (or, more likely, rebuilt), and was inhavbitable by 1617, when James VI stayed here. In 1650 it was occupied by Cromwell's forces.
The new mansion took shape by 1675-91, built by WIlliam Douglas, Earl of Queensberry (A duke in 1684). The Earl's moved back to Sanquar castle fo ra time, then returned to Drumlanrig.
In 1810, the castle belonged to the Scott Dukes of Buccleuch. It was restored in 1827 and the service wings were added.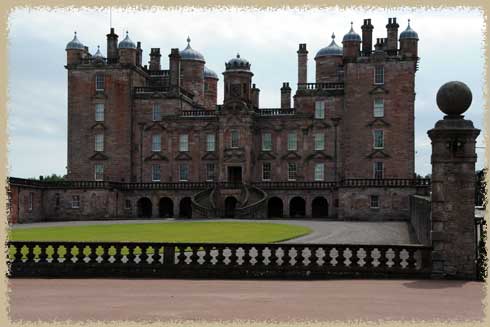 the facade of the building behind the arching driveway