May 28
We had a very slow morning (probably the latest morning all month) and didn't wander down to breakfast until nine or so. We asked at the front desk for a launderette, so we could wash the rest of our clothes and not have to worry about it for the rest of the trip, and were pleased t learn that there was a full-service laundry only a few blocks away. Mark packed up the rest of our clothes in the duffle and dropped them off and then we lazed about and napped for awhile and didn't check out until almost noon. It was quite relaxing and we're definitely ready to slow down.
Spent some time tracking down parking options (the Witchery has none of its own, but recommends one of the parking ramps at the bottom of the castle wynd) and we girded our loins and set off into the city to find the parking lot. It's an adventure, but we eventually did find it (almost by accident, although I'm claiming Major Navigator Props for getting us there) and lodge d the car in the car park. IT's a 24 hours car park, monitored and everything. Expensive, but that's the disadvantage of taking a car into town. At any rate, we walked around the shops and finally up the royal mile a bit to get our bearing and look around. Edinburgh is VERY hilly - the castle sits on a volcanic peak in the middle of the city and everything is a steep climb to the peak.
First taste of Edinburgh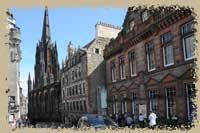 I really like Edinburgh - the curved streets are packed with storefronts and restaurants. The architecture is amazing. Up on the top half of the Royal Mile, we ducked into Gladstone's land just before a busload of school kids arrived - a "land" is a stretch of property, in this case a shop front with living quarters above. It's quite narrow, but they managed to fit in a kitchen, sitting room and bedroom upstairs (with a lovely painted ceiling). It's been restored to what it would have looked like when the Gladstone's actually lived here and ran the shop. Comfortable, but small.
Crossing the street, we signed on for the Scotch Whisky Experience (that is, ride) next to he hotel. It's a huge tourist draw - a 'fake' distillery on the Royal Mile, purporting to explain Scotch to the tourists who never actually leave Edinburgh. IT's actually quite fun, but a real distillery tour is way better and we've already had four or five of those. The tasting at the end of the tour is a rather rote affair, but it does go over the primary regions of whisky making and the room with the world's largest whisky collection is pretty impressive. But we shook our heads sadly over people who would have this as their only experience of the scotch whisky distilleries, especially when there are other options that are definitely within a day-trip distance of Edinburgh. The ride, which is in giant whiskey barrels, is cheesy as hell but well done.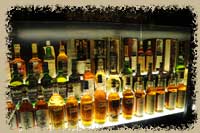 I tasted Auchentoshan (which is distinguished by being distilled three times, like Irish Whiskey is) and Mark had Tobermore -- we only got to pick by region, not by brand). We stopped in to the huge store downstairs before leaving but didn't see anything that we absolutely needed to have.
Possibly the neatest hotel ever...
We walked next door to check in to the hotel.
WOW.
WOW.WOW.WOW.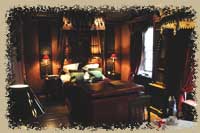 The Witchery is AMAZING. Our room, The Library, is stunning and over-the-top movie gothic. Red velvet drapes, velvet bed tiers, antique furniture, book cases everywhere. A huge (really huge) roll top tub in the bathroom lined with books and a heated tile floor. Even a fully set out kitchen and a hidden flat screen television, too. It's like a luxurious little hideaway in the middle of Edinburgh. We just lumped about for a while before our reservations for dinner at 8 -- the Witchery is a "Restaurant with rooms" and their primary reputation is as a restaurant, the seven rooms they have added afterwards are relatively recent.
WOW again.
There are two restaurants here -- the dungeon (the original restaurant) and the Secret Garden, a slightly more modern and open place. We wanted to eat in the atmospheric dungeon restaurant - all wood paneling and candle lighting. Great ambience, food is good, service is attentive and nice. I was reading some really critical reviews of the place in Tripadivisor, but we had a great experience. Not the most perfect meal we have had, but definitely the best experience. I had grilled scallops and salmon, Mark had the halibut. We found a lovely Viognier on the wine list (which is about forty pages) and had a perfectly lovely dinner.
I ordered a glass of white port with my chocolate torte for dessert, which prompted the couple sitting next to us to ask about liking white port - they were sure they were the only ones who had even found the stuff. I was introduced to it at the Colorado Wine Festival a couple of years ago - a local winery makes a Lipizzaner White Port that is just incredible. I hoard the stuff and refuse to share with anyone. They were staying in the Witchery for only one night, for their 7th anniversary, and were shocked that I was our 20ths. (I love it when people don't believe we've been married that long. Hah!)
We wandered up to the castle esplanade, just to look around a bit. They re in the middle of building the enormous scaffolds and stands for the September Edinburgh Tattoo, so most of the cobbled courtyard is filled with pipes and seats and machinery but the castle is still neat, and the view down from the walls is worth it. We got to see the sunset (about 11pm) for the first time in quite awhile. We obviously need to sleep in more often, if we want to be awake past 9pm or so.
We lounged about in our room and drank a few glasses of champagne, opened the windows, and climbed into the big comfortable, plushy bed. AAAAAAHHHHH.
I could really learn to like this.