Edinburgh Royal Mile
Running from the Castle to Holyrood Palace, the Royal Mile really defines Edinburgh.It's a virbrant, fun, interesting place to spend a few days -- crawl the pubs, wander through the museums, watch the poeple, eat in the great restaurants.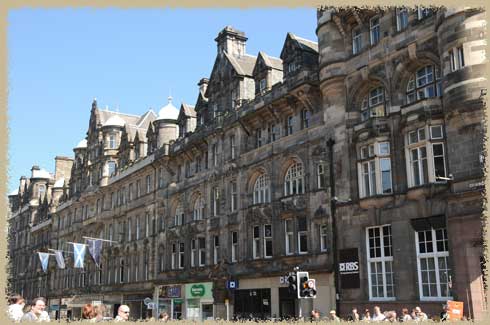 a block of 18th century townhouses along the royal mile
Edinburgh Streets
The Royal Mile is actually just a little bit over a mile long,(it is as Scots mile long. A Scots Mile by definition is the distance between the castle and Holyrood Abbey, convenient, no?) It starts in the Castle Esplanade, turns into Castlehill street, then Lawnnmarket, High Street, Canongate, and finally Abbey Strand.
The castle is built on a huge column of volcanic rock, which extends eastward and down, leaving hte main part of the old city on a long, gently sloping trail. Tenement buildings and townhouses line the street on both sides all the way down to the abbey, each built higher and higher as they tried to take advantage of the only direction they could expand into: up. The buildings eventually covered every inch of land avaiable on the streetside and were built down and out further along the slopes of the hill - resulting in buildings further back having their lower floors below "ground level" of the buildings in front. This resulted in winds and closes -- narrow lanes and alleys) that went off perpendicular to the main spine of the Royal Mile.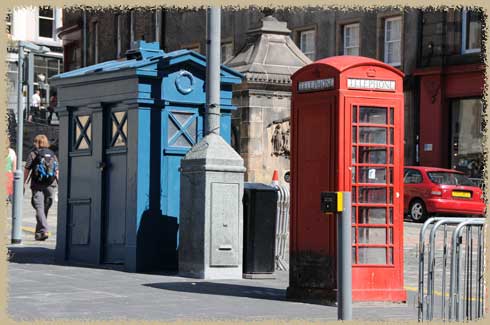 A soon-to-be-rare red phone box and police box...yup, they still exist!
The upper end of the street begins at the castle and passes St. John's Church (the Hub, now) and a number of civic buildings. Further down in Lawnmarket, the shops start taking over the first floor doorways and Gladstone's Land lies here. Highs Street is packed with pubs and tourist shops and Parliament Square and former location of the Tolbooth.
The walk down hill is a fascinating look at the architectural styles that dominate Edinburgh -- dutch influence, georgian fronts, ornate victorian frou-frou, medieval walls, and -- as always -- stunning views over the rest of Edinburgh.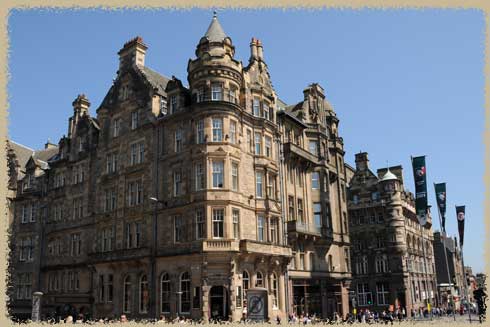 one of the many 19th century buildings in Lawngate - The Woolen Mill