Cawdor Castle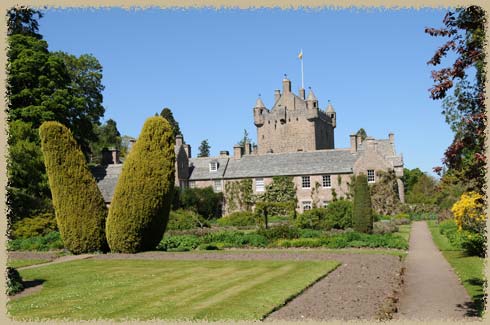 from the gardens (through the weird shrubs) to the castle tower
Ownership
William the Lion built a fortification here in 1179, to control access via the River Nairn and the trade route to Inverness. ANy traces of that earlier (probably wooden) castle are gone.
Cawdor is an epithet associated with Macbeth, but the castle was not involved in any way in the story, despite Shakespeare's writings. The family name is actually Calder (and is still pronounced that way, despite the new spelling), a name taken by the first thane (lord) here in 1236 when the lands were granted to Donald, Thane of Cawdor by Alexander II. The family history does try to reference the famous Macbeth, but the stories are often contradictory.
Thd first castle on the site was probably built by the 3rd laird, William in the 1390s. Most of the current castle was built by Donald, the 5th lord here. "Thane" is an earlier title, and has been superseded by 'Lord Cawdor' - although the old Scots terminology managed to hang on at Cawdor until the 18th century.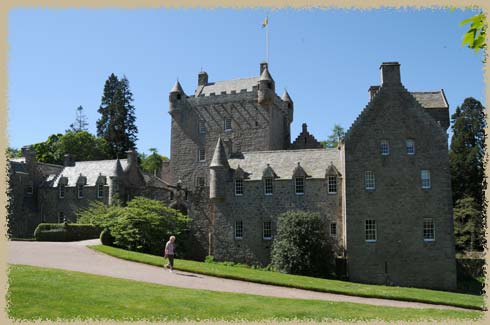 looking at the castle and later wings
The 6th thane was licened to refortify the castle by James II, and he built the courtyard, adding hte gatehouse and the iron yett. The oldest parts of the domestic buildings attached to the castle were probably added by the 8th thane, John, at the endof the 15th century.
The estate was taken by the Campbells in 1511 through the expedient method of kidnapping and forced marriage of the heiress (at age 12) to Sir John Campbell, son of the Earl of Argyll. Her descendents remained in the castle. The Campbells were made Barons in 1796 and then Earls in 1827. The castle is still in the hands of the 26th laird (and 6th Earl - that has to be confusing) of Cawdor.
The castle was visited by Bonnie Prince Charlie in 1746.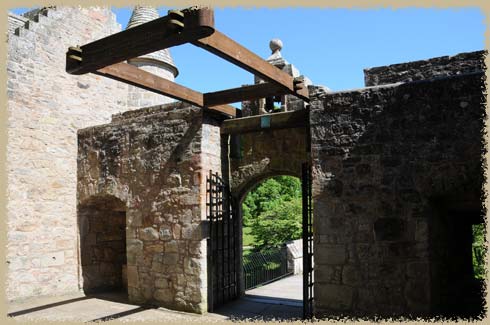 the cantilever for the gate and drawbridge