Drochil Castle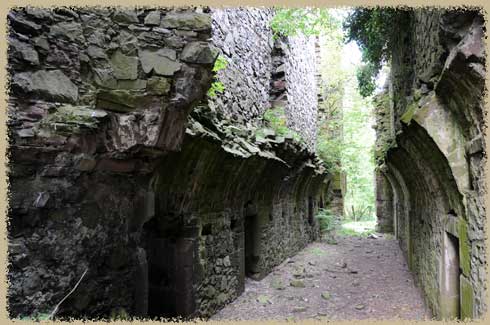 another view of the main passageway through the cellar
Ownership
The 4th Earl of Morton, James Douglas, built the castle in the 1570s. He was Chancellor of Scotalnd in 1563 but was involvedin the plot to murder Rizzio, Mary, Queen of Scots' secretary. He was regent for James VI from 1572 to 1578, but he was also involved in the murder of Darnley, Mary's husband and was executed in Edinburgh in 1581, and the castle was supposedly left unifinished, but this is not supported by the records.
The castle was inhavbited in 1600 when The 5th Earl of Mortn, William, was ordered to live there, and records indicate it was rented out by the 6th Earl in 1608.
Drochil was abandoned in 1630, when it passed to the Stuarts of Traquair, since they did not reside here.
The lands passed to the Earl of Tweeddale, then Duke oF Queensberry, and finally to the Earls of Wemyss and March. It sits in the farmyard of a B&B today.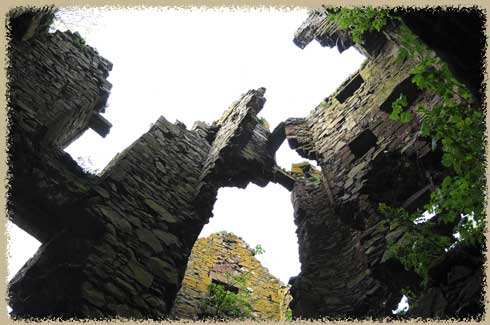 looing up into the ruined south wing, with windows and fireplaces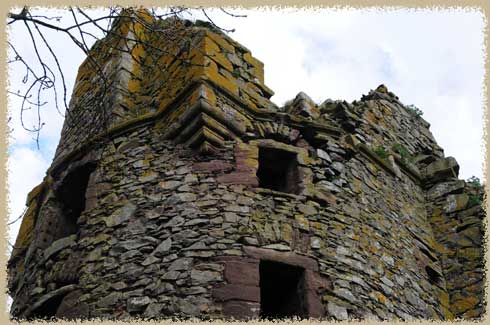 remains of the corbelled-out gatehouse on the tower