Drum Castle
Drum is one of the oldest occupied houses in Scotland. We arrived late, and agreed that we'd seen far too many antiques today to wait around for the next timed tour. We opted to look at the tower and the grounds, instead.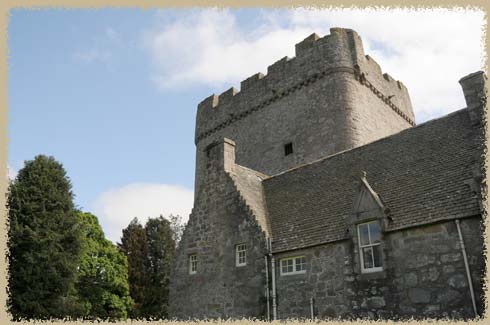 the bulk of the original tower overshadows the later manor house
13th Century tower
Like many of the older castles, this one built around the core of an older tower. The main part of hte castle is a massive square tower built in the 13th century, surrounded by a large L-shaped range built in the 17th century, and even later additions.
The main part of the castle is a four-storey 13th century tower. The corners are rounded and the fanciful crenelations on the top of the wall are later additions. There may have been an attic at one point. it is entered by a rough stone stair on the exterior and is not connected to the more modern parts of the tower. It is not occupied.
The tower is 15.5m x 11.8m and has immensely thick walls at ground level. It is vauled on all floors, with the upper floor slightly pointed. The upper two stories werre divied by a wooden floor. The uppermost vault dates slightly later than the lower portions of the tower. it may have been added up to 40 years later. There was probably an attic, bu tit has been replaced with a flat roof.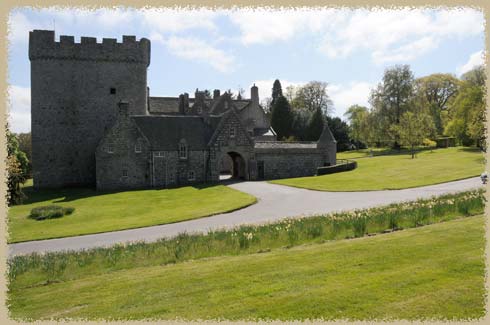 view from the gardens of the tower and lower additions
The extension bult in 1619 rises to three storeys with an attic. The cellars are vaulted (including the kitchen)A hole was punched through from the newer house to the old tower, so that the first-floor hall could be accessd. It is now the library, with large windows and a wide staircase for access.
There is a 15th century brewhouse in the NE corner of the complex, with a modern gateway attached.
Ownership
Drum belonged to the Irvine family in 1323, a gift from Robert the Bruce for their services as standard bearer. It is likely that a tower was built hre in 1286, for Alexander III.
The castle was plundered by Argyll in 1644, because of the Irvine's support of Charles I. It was sacked again in 1645. The faily were Jacobtes and fought in the risings in 1715 and 1745.
The castle was given to the National Trust in 1975.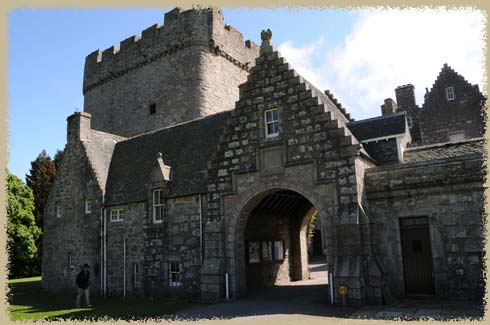 the modern gateway to the courtyard