Drumcoltran Tower
Perhaps the most interesting thing about this tower is that it sits in the middle of a farmyard, surrounded by sheds and stables and fields -- just as it would have when it was built originally. These towers weren't showcases, they were farm houses.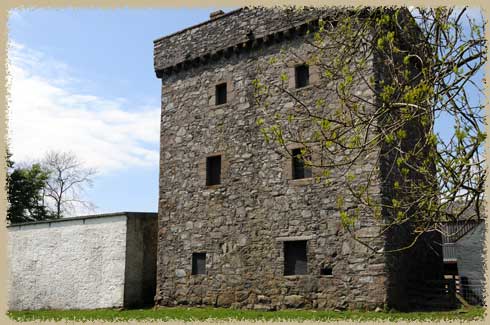 the tower in it's "original setting" - -a farmyard
16th century tower house
Another L-plan tower house - the most common configuration in the nearby region. The main tower is three storeys and an attic, with an attached stair tower that rises a storey higher to give access to the roof.
Standard layout - vaulted basement with cellar and kitchen, first-floor hall, private rooms above. This is the pattern shared by almost all tower houses. The interior floors would have been timber, alhtough none remain. Additionally, the cellar would have been separated into multiple rooms by a timber partiion.
The tower dates from roughtly 1550, and measures 10.2m x 8m. THere is a parapet and wallwalk around the entire tower. A small turret containing a stair here in the re-entrant angle leads to the fourth storey bedroom.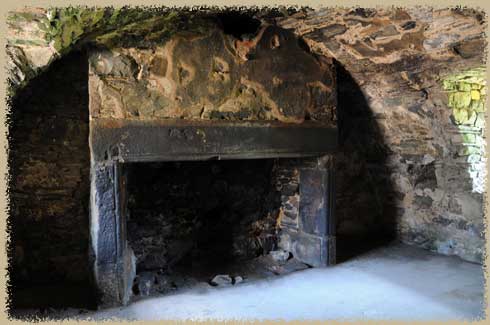 the large fireplace on the main floor
Ownership
The Herries family origianlly owned the property, but it was passed to the Maxwells by marriage in 1550.
It was sold several time sin the net two centures - to the Irvings in 1669, to the Hynds in 1799, to the Herons and then to the Maxwells again in 1875. It was occupied until the 1890s - the cellar kitchen stil has relatively recent soot marks!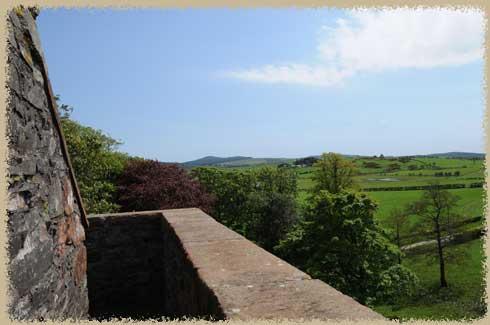 view from the wall-walk over the surrounding farmland