Duart Castle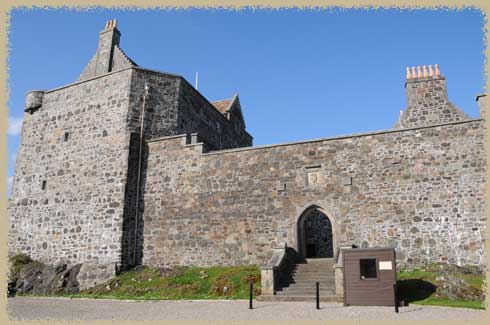 the modern entrance, with the huge thick-walled tower to the left
The chief here (along with the leaders of many of the island clans) were imprisoned on a ship (near Aros Castle) in 1604.
The castle was passed to the Campbell Earl fo Argyll in 1674. He also siezed most of the MacLean lands. The MacLeans once again acquired the castle some time in the 1680s, and they held it against the Campbells until 1692. The castle was garrisoned by Hanoverian troops during the Jacobite RIsing in 1745, but was abandoned shortly afterward, despite documents suggesting repairs to allow the castle to be used as a barracks.
The castle was sold to the Guthrie family in 1875. It remained derelict and roofless until 1911, when it was acquired by Fitzroy MacLean, the 10th Baronet of Duart. He restored the castle and it has remained in the family since. Further restoration work was contracted in 1991-1995, and work continues.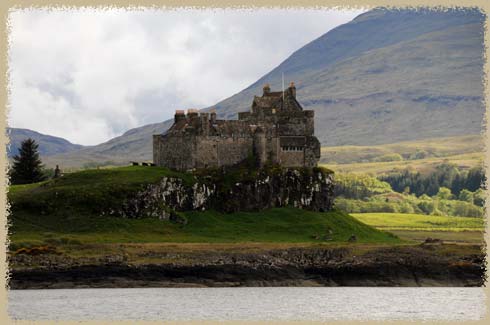 view of the castle from the ferry from Oban
Notes
The caslte has been a location for a number of movies, including Entrapment (1999) and When Eight Bells Tolls (1971). It was used as a set for the television series Buffy the Vampire Slayer as well.
Duart House -- home of the Lairds of Torosay -- was renamed Torosay Castle, to avoid confusion when Duart Castle was restored in the 20th century.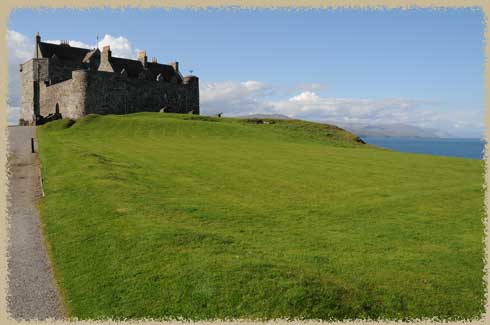 the long esplande ot the castle