Dumbarton Castle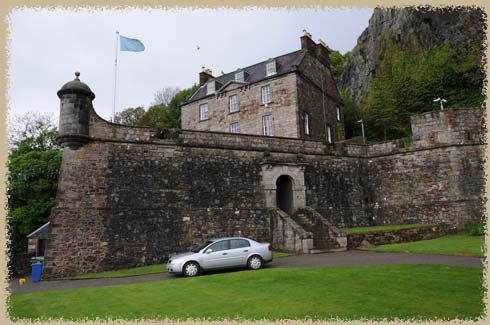 the governors house, at the base of the hill
Ownership
The first recorded inhabitants were the Kings of Strathclyde -- although the picts, northumbrians, irish, and vikings have been here as well. The gaelic name for the crag 0 Dun Greatann, means 'Fortress of the Britons'
A charter to the Earl of Lennox in 1238, when it was named for the Crown, when Dumbarton was made a royal burgh. At this time, the Norwegian Border was only 10 miles downriver and the castle was considered a border stronghold. When the Norwegians faded as a threat in the 13th century, the focus of the border protection simply switched to England.
Mary Queen of Scots was kept here in 1547, before being taken to France. IN the subsequent ceturies, the castle changed hands dozens of times, until it was left mostly a ruin by the 17th century.
The castle was garrisoned form the late 18th century, though, until 1865, when the last of the military installation here was left. The army returned in 1914 and again in 1939,, and it was the target of German bombing in 1941 during a raid on the Clyde.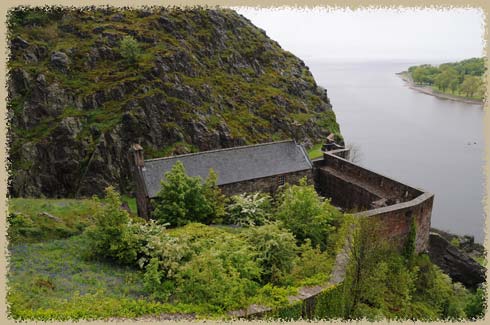 gun emplacements and modern walls, looking out over the firth of clyde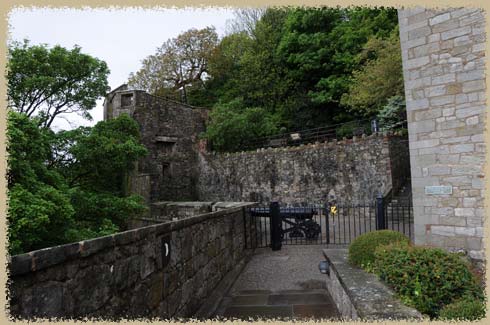 gun emplacements around the hill