Dunstaffnage Castle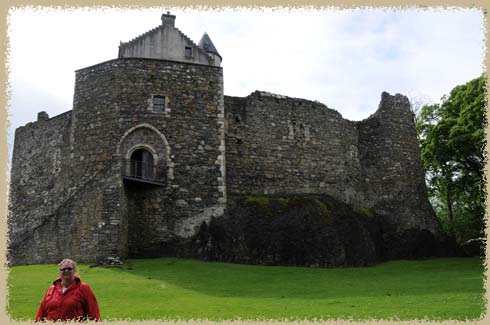 Dunstaffnage tower and walls
13th century castle
A massive 13th century curtain wall surrounds a small courtyard. THe wall has round corner toweres. In some places, the walls are 60 feet high, with a wide wall walk and parapets for lookouts.
The main castle is fitted into the stone outcropping , making it a rather squashed rectangle with round towers on two corners, and a stour gatehouse opposte. Nearly all of the outer wall is 13th century (from roughtly 1270), and the projecting gatehouse, which replaces another round tower, dates from c1500 and was reshaped again in the 17th century. The entrance is to the first storey, from a relatively modern staircase.
The walls are up to 3.2m thick in the courtyard, which is about 30m x 28m. Inside, the walls are stepped back to a thickness of 2.7m to provide for a wall walk and chambers within the thickness of the wall.
The round towers do not project out from the walls, but are rather incorporated into the corners and fall mostly within the couryard with only a small bulge to suggest that they are there. THe nothern tower, 10.8m in diameter, was used as a keep and residence for the laird.. South of this tower is a long two-story range that fills the space between the tower and the gatehouse with a low building for a hall. Kitchens lie to the west, rebuilt as a more modern house.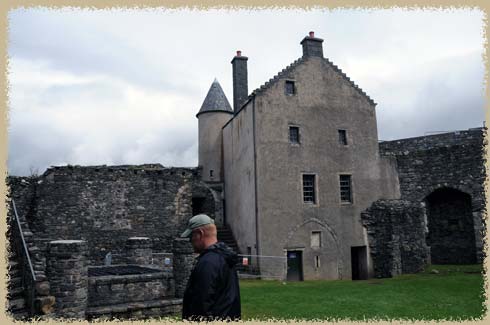 inside the courtayrd, looking at the back side of the gatehouse (now private)
The gatehouse dates from the 16th and 17ty centuries, the later additions dividing the cellars into two smaller rooms and the wide round-topped door was added during later reconstructions efforts.

a large window embrasure in the main wall
Chapel
There is a tiney rectangular chapel a short walk into the woods. The chapel dates form the 13th century, and is the burial place for a number of Campbell notables. It is in a pretty setting, but there it very little left of the building. See Dunstafnagge Chapel for pictures.