Edzell Castle
The real draw here for many people is the small but lovely garden (which is maintained by one person! I asked!) that lie in the walled courtyard of this wmall tower house. The tower is neat, but the gardens are worth a stroll. Watch out for the peacocks!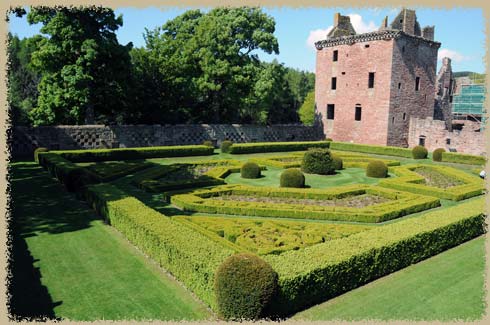 the castle is cool, but the walled garden is the real draw here
16th century tower
The tower house at Ezell is large and fairly well preserved. The tower is from the 16th century, and it is surrounded by a later buildings inside a small courtyard.
The L-plan tower sits on one corner of the courtyard is built on the foundations of an older castle, as many of the towers built in the 16th century were. Older, less comfortable castles were replaced with more liveable buildings, with larger windows, larger rooms, and more comfortable accomondations instead of purely defensive designs. A nearby timber motte-and-bailey castle (Castle Hillock), dating from the 12th century, was abandoned when the stone castle was built.
The tower is four storeys and an attic, and has corbeled out open rounds at each corner, and a small projecting round in the middle of each wall. The parapet itself is gone, removed after it was severely damaged in a storm. It is a large tower - 13.4m x 10.4m over 2.2m thick walls, and a large 4.8m projecting wing. The entrance to the castle is in the re-entrant angle
The basements are vaulted, with a stairwell in the smaller cellar leads to the first-floor hall. The hall was large and quite luxurious, with two large fireplaces and a large stairway leading otthe upper, private rooms. THere is a small mural bedchamber in the wall in the end of the hall.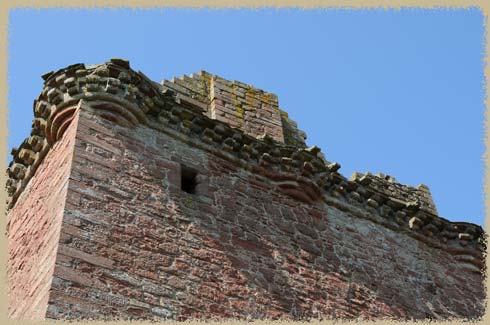 the open rounds are on each corner, and in the middle of the walls
The couryard itself is about 34m square and has ranges of building on all four sides, although it is possible that only the SW range, with the kitchens and vaulted cellars, was ever completed.
The other buildings along the walls of the courtyard are mostly foundations. They were added during about the time James VI was visiting the castle (in 1580 and 1589) , although they probaly date from a bit earlier, when his mother held a council at the castle.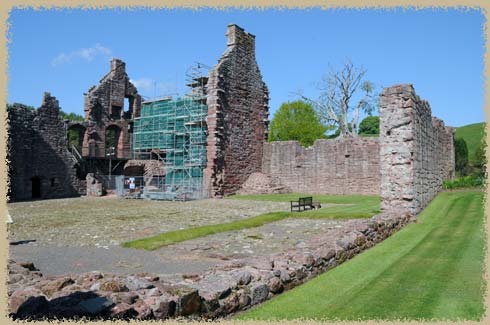 the NW range, under reconstruction