Girnigoe Castle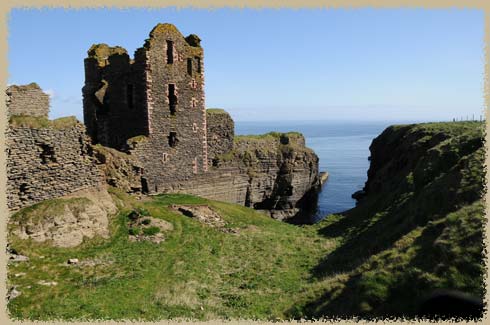 looking down the steep inlet that protects the castle
Ownership
The 2nd Earl of Orkney was given the lands here (all of Caithness, actually) when the family was forced to resign the title of Earl of Orkneyin 1472. They were made Earls of Caithness by James II by means of compensation for the change. He built the Girnigoe on this easily-defended piece of land.
Caste Sinclair was built by the 5th Earl in the beginning of the 17th century. The castle was garrisoned by Cromwell in the 1650s and the Earl lost the title to the Campbells when he willed it to them to pay debts.. THe title was reclaimed by the Sinclairs of Keiss in 1679.
The castle was damaged in 1681 and was not reused. Girnigoe and the nearby castle of Keiss were both ruinous by 1700. . The derelict castle was owned by the Dunbars,but once again, the SInclairs bought it back in 1950 andthe castle is held by their family trust.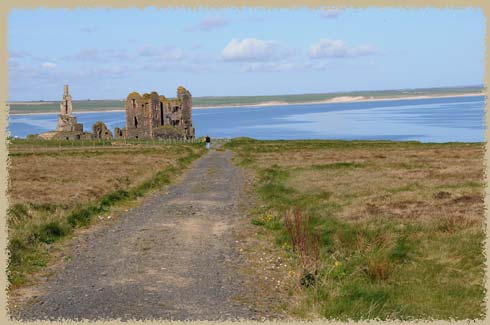 it's a long walk to the castle from the main road (which is now blocked to traffic)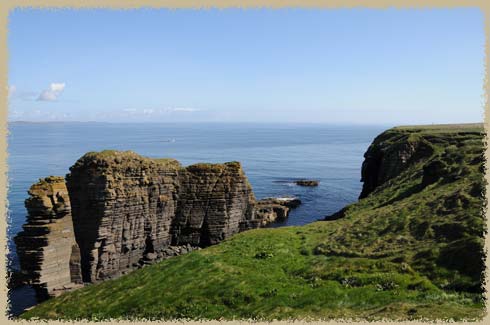 more of the strnage stacked rocky bits off the cost